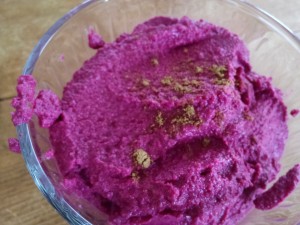 What better way to say Happy Valentines Day than with deep color and nutrition?!
This recipe was introduced to us by one of our shoppers (Thanks Joann!)
Here is our recipe, adapted from the one she got from her sister-in-law.  And really, as with any hummus, adjust the recipe to suit your tastes.  You can add more or less garlic, more or less oil for creaminess, more or less tahini depending if you want it more like traditional hummus or want to let the beet flavor shine through.  Some recipes mix in chickpeas too, which could be good, but we were going for a pure beet experience.
Beet Hummus
1 pound cooked beets (roasted, steamed or boiled, and then drained if boiled)  If you boil them, save the cooking liquid, reduce it a bit and sip. 
1/4 cup walnuts, toasted
2-3 Tablespoons Lemon Juice
1/4 cup of Tahini
3 teaspoons ground cumin
2 large cloves of garlic
2 Tablespoons olive oil
1/2 teaspoon of salt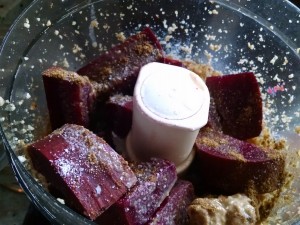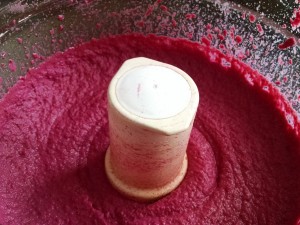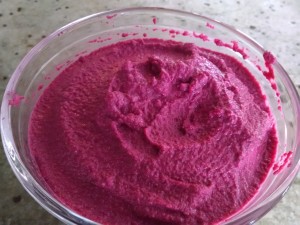 Toast walnuts and cumin stovetop for a few minutes to get a nice toasted flavor.  Put all ingredients except olive oil in a food processor and process till smooth.  [I do find if you put in the garlic and nuts first it is quicker to get them chopped fine, then add rest] Add olive oil and continue processing.  Taste and adjust to suit your preferences.
We found a little olive oil and cumin on top when serving was lovely.  Eat right away with carrot sticks, pita or whatever or put in fridge.  Our kept wonderfully for over a week.  We did add in some additional olive oil to bring back creaminess if it had been in fridge for a few days.