Kale Pesto…a new love.  The loveliness of Pesto and another way to feed my body some wonderful, nutritious greens!  We have enjoyed this as a dip for carrots (chips or crackers would work too), with pasta, on the bun of my goat burger and just with bread.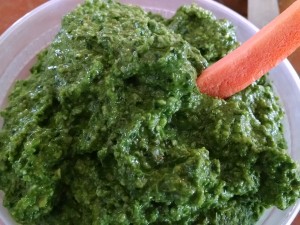 We tried both recipes below – one with blanched kale and the other with just raw kale and we used stems and leaves.  Love them both.  The blanched one was  bit creamier, perhaps better with pasta?  But all great– and additional garlic could definitely be added!
Kale Pesto – Raw Version
1/3 cup walnuts
3 cups chopped kale, stems & leaves
2 cloves garlic
Kosher salt
1/2 cup grated parmesan cheese
1/2 cup extra-virgin olive oil
In food processor, chop walnuts and garlic, then add kale, process more, then add cheese &  salt and pulse to combine.  Then add oil while running the processor and process till smooth.  Enjoy!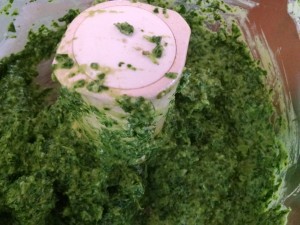 Kale Pesto – Blanched Version
1/3 cup walnuts (toasted if you choose)
1 bunch kale, chopped, stems & all and blanched(about 5-6 cups)
 1 cup grated pecorino or Parmesan
2 cloves garlic
1/2 teaspoon salt
1/4 teaspoon black pepper
1/2 cup olive oil
Blanch Kale – Bring a pot of water to boil, put kale in for 30-60 seconds till bright green then strain in colander & squeeze dry when cool enough to handle.
In food processor, chop walnuts and garlic.  Then add cheese, blanched kale, salt & pepper and process until finely chopped.  With processor running add olive oil and process until smooth.  Enjoy as a dip, spread or pasta sauce.