Lettuce is abundant! (3 successions all ready at once due to the weather).  Lettuce is also a great base for lovely meal salads – just add other fresh veggies and perhaps some grilled chicken, sausage, or even a bit of ham.
The first cherry tomatoes are ready, just a small taste for folks this week.
Remember if you are interested in making some big batches of Pesto or freezing some greens, just let us know and we will harvest extra – see the list of abundant options below!
Currently at our Farmstand you can find: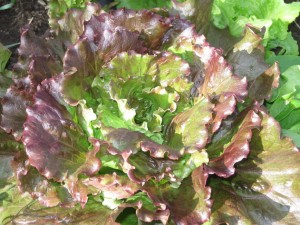 Fresh/Stored Veggies 
Asian Greens
Basil (Lots!)
Beets
Broccoli
Chard (Lots)
Cherry Tomatoes(a taste)
Cilantro (Lots)
Cucumbers (limited)
Dill
Fennel
Garlic
Garlic Scapes
Kale (Lots)
Mint (Lots)
Lettuce, Head (lots)
Nasturtiums, edible leaves and flowers
Onions, Bunch
Oregano
Peas (limited)
Pesto:Basil, Cilantro & Garlic Scape
Peppers
Radishes (Lots)
Salad Mix
Summer Savory
Summer Squash
Thyme
Meats
Bacon
Beer Brats
Bones, Pork & Goat
Chicken, Roasting
Chicken Breast
Chicken Legs & Thighs
Fat, Pork Leaf
Fat, Pork Back
Ground Goat
Goat Ribs/Breast
Ham Steaks & Roasts
Italian Sausage, bulk
Jowl
Kielbasa
Lard
Offals
Pork Chops
Poultry Stock
Stock, Roastd Goat & Pork
Ground Turkey
Turkey Breast
From the Pantry
Bread & Butter Pickles
Dill Pickles (Chunks)
Dilly Beans
Green Tomato Pickles
Hot Sauces
Jardinere
Pickled Jalapeños
Lemon Pickles
Pepperoncini
Heirloom Tomato
Salsa
Crushed Tomatoes
Tomato Paste
Tomato Puree
Dried Tomatoes
 Dried Hot Peppers
From our Friends
Cider Syrup from Brookfield Bees
Caramel from Fat Toad Farm
Maple Syrup from Spotted Dog Farm
Blueberries & Raspberries (frozen) from Spotted Dog Farm
What is on sale at the Farmstand is also on our
website.