This week, the farm started the transition from the depths of winter (which truly can be a bit blissful, with the year's major workload seeming to be far, fa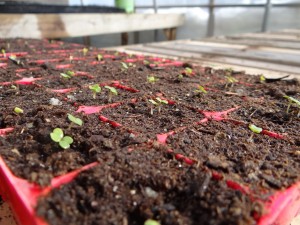 r, away) towards spring.  Now many of you felt that too probably with last weekend's springy temps, but perhaps with more longing and joy than some of us.
For us it meant, the first seedlings are in and now UP! in the greenhouse.  These aren't ones headed for the outside fields, just getting ready for a round of late spring greens in the hoophouse.  But arugula, beets and chard, kale and mustard greens for salads and braising mix in the coming weeks.  They are awfully cute dancing towards to the sun!
It also meant starting to get ready for the kidding onslaught.  Frost's early arrival has us somehow more prepped, but soon we have to be ready for a lot more time with the goats.  We've been getting them ready too, a few more walks – at least some laps around the hoophouses where it is plowed and shoveling their outside paths a bit wider to accommodate their ever widening loads, while we have tried to finish up some key office and planning work.
And in that hope toward spring, we continued working with the pigs to turn them into sows and get some piglets on the farm in the early summer!  Ramona seems to be pregnant and we are working on Amelia, Jemima we will catch in her next cycle.  Perhaps an appropriate celebration of them this Saturday for National Pig Day will help them!
And the other pigs got some walks too…encouraging them out and about in the snow!
By the weather this week, spring seems a long way off, which is bit reassuring for those of us always running a bit behind.
If you need a dose of springtime joy and hope, the seedlings and goats are accepting visitors when you come to shop  they show up on facebook often!