Friday, November 8th  8:30 – 4 pm (or so)
Join us for a hands-on Pork and Goat Butchering workshop with master butcher Cole Ward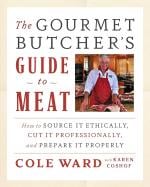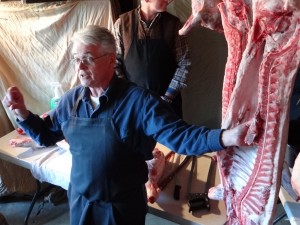 Cole Ward mixes hands-on butchering with teaching; his encyclopedic knowledge of the meat sector makes him a sought-after lecturer and seminar leader at culinary academies,colleges, and agricultural and sustainable-living conferences.  He is convinced that the more people know about where their meat comes from, the more control they will have over their own and their family's health.  His full butchery course was recently released on the two DVD set The Gourmet Butcher and he has a book forthcoming from Chelsea Green, "The Gourmet Butcher's Guide to Meat", available in January.
In this workshop, Cole will provide instruction and hands-on learning about how to cut pork and goat meat and your options for various cuts.  This will all be done with some of the farm's pasture-raised, humanely managed pigs and goats.
Whether you want to learn how to cut meat yourself, what your options are when you have meat butchered or make purchases or just want to have a fantastic learning adventure about how meat can be raised, slaughtered and butchered sustainably, this is great option.  Cole will captivate you with stories as well as the swiftness of his knife and the farm will delight you with delicious sustainably and humanely raised meats and veggies.
The all day workshop includes:
6-8 hours of observation, instruction and hands on learning butchering pasture-raised pigs and goats in the farm's retail cutting space (all inside!)
Delicious, Seasonal Farm Fresh lunch with ingredients from the farm served in the farm's new Farmhouse Inn/event space featuring our pasture raised meats!
a Farm Tour
Coffee and morning snacks
Fresh, custom cut pork and goat meat will be available for sale, bring your cooler.
Workshop Price: $90/person
Limited spaces available,  please email us to register or call us at:802-505-9840
Cole loves to share the knowledge acquired over forty-five years of butchering.
Delight all of your senses and join us for this intimate look at meat from pasture to plate.

Make it a Getaway!
Farmstay and workshop packages are available, with stays in either our Barn Guesthouse or the Farmhouse Inn.  For the workshop dates, the Farmhouse Inn can be rented by either an entire group (3 bedrooms) or individually by the room.  Additional farm experiences and meals can be added to the package. Contact us for details and prices.