Inspiration comes to us in many forms, some of them predictable, some of them not.  As someone whose work is passion driven, inspiration and motivation and the rekindling of that passion is critical.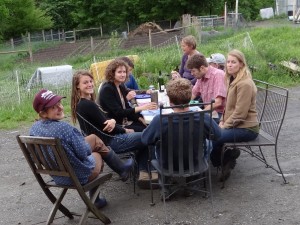 When I ran a mission driven non-profit, I would coach my younger colleagues to remember that when you toil hard towards goals you deeply care about the highs are higher, but the lows are lower. It is just part of the deal.  Farming, for me, has that same roller coaster feel and at times I can doubt the wisdom or my ability to be on this path. When the weather, hours, workload and even particular animals (yes, Jenga & Grace this means you) seem to be making progress impossible, I question this choice.
But then inspiration comes, reminding me of the potential and value of what we are doing.  It came in spades on Sunday.
Events, sharing our farm food with our community, allows a moment of thanks and appreciation. Deep thanks to all who joined us on Sunday to share a meal that was raised and prepared on this farm through the hard work (on good days and bad) of our team.  We aim to not only produce tasty food, but also sustainably raised food.  All of us farmers require a heart and gut seal of approval for how our vegetables and livestock are raised.   And we all LOVE sharing it with you.
Worldbeat's 2 goat kids were born on pasture Sunday afternoon. Watching these newest members of the farm settle into their new life was a treat as was seeing what joy it brought to all at the farm.  Births often offer hope and joy.  Worldbeat's deliverywas seemingly easy — Melissa found her with the 2 new little one's on pasture Sunday afternoon.  They got to enjoy the rainy evening in the barn, welcomed to the world with the warm music and many admirers.
Inspiration certainly also came from the beauty of Red Tail Ring's live music and the care and warmth they brought to our farm Sunday evening.  Music can often take you away from daily toils and allow you to step back and see what is possible.  I loved all that they gave us, but Holding to the Land*  is a stirring tune that the first time I heard it and again Sunday night helped me reconnect with why I do farm.  Thanks to Laurel & Michael for giving us all a reason to slow down, share and appreciate the community we have here.
I hope for all that shared the warm music in the barn, you too were   inspired for another ride up the roller coaster.
Holding to the land – Working for the harvest 
Holding to the promise – Following the plan 
Praying for the rain – Trusting in the sunshine 
Living out a lifetime – Holding to the land
– Joel Mabus