from Donna Farley & her step-mother
Donna Farley sent an excited email last week, "I finally did it! I just made gazpacho with the bags of frozen tomatoes, and it's yummy."
Yummy it is, we repeated in the holiday weekend's hot spell and it is delicious, even without the pepper!  We soaked the bread in the juice from the tomatoes when they thaw. So big thanks to Donna as we hadn't thought about making Gazpacho with the frozen tomatoes, enjoy while this year's tomatoes are ripening!
3 ½ ounces Stale Bread, broken into pieces
2lb Ripe Tomatoes (Fresh or GMG frozen whole tomatoes)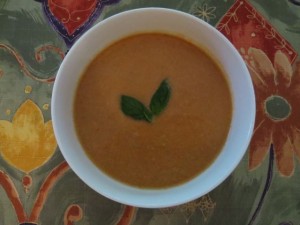 1 Green pepper
2 Cloves Garlic, peeled (Scapes work well too)
2 ounces White Wine/Cider Vinegar
5 ounces Olive Oil
2 teaspoons Salt
Soak the bread in water, then squeeze out excess liquid. Put all of the ingredients in a food processor and blend to a fine puree. Pour into a bowl, cover and chill for at least one hour. Thin with water just before serving if the soup is too thick. Decorate with Basil leaves, or anything else that looks pretty!