Our farm is thrilled that author Barry Estabrook will be joining us for a discussion of his book, Pig Tales: An Omnivore's Quest for Sustainable Meat, and how pigs are raised in the US, both sustainably and not.  Bring your questions, interests and even get a book signed.
Reading his book is both a joy as it celebrates sustainable farming and highlights the capacity of pigs. His stories make vivid the heartache from health and environmental impacts of industrial ag. This big picture overview reaffirms why we are raising pigs the way we do.  Join us for a great discussion.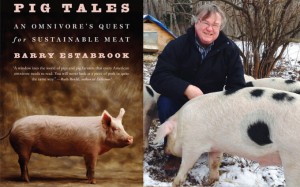 "Barry Estabrook has written a beautiful and clear-eyed examination of the world of pigs and pig farming. With his engaging prose and soulful, riveting stories, he illuminates the complexities of the pig industry, and the desperate need for reform. And he gives us hope, too, by telling the stories of the people who care for these remarkable animals—and the land—for future generations."

–Alice Waters, Chez Panisse
Open to all at no charge.
Coffee, Tea & local popcorn popped in our pasture-raised lard will be provided as a snack.
The book talk will be held in the Farm's Barn event space. 
RSVPs are not required, but if you plan to come, let us know by emailing us at: RSVP@EatStayFarm.com so we can make sure to have enough chairs & popcorn!
A simple bowl of soup will be available in our farmstand from 5-7 pm for anyone seeking a farm fresh meal before the book talk.
Check out these interviews with Barry Estabrook on NPR and Civil Eats for more information about the book.
Thanks to the Williams College Winter Study residential stay for enabling this presentation.  This discussion, open to the public at no charge, will also be attended by a small group of Williams College students who will be in the midst of a week-long residency course at Green Mountain Girls Farm entitled, Digging Deep into Winter Food – Farm to Plate Living in Vermont.