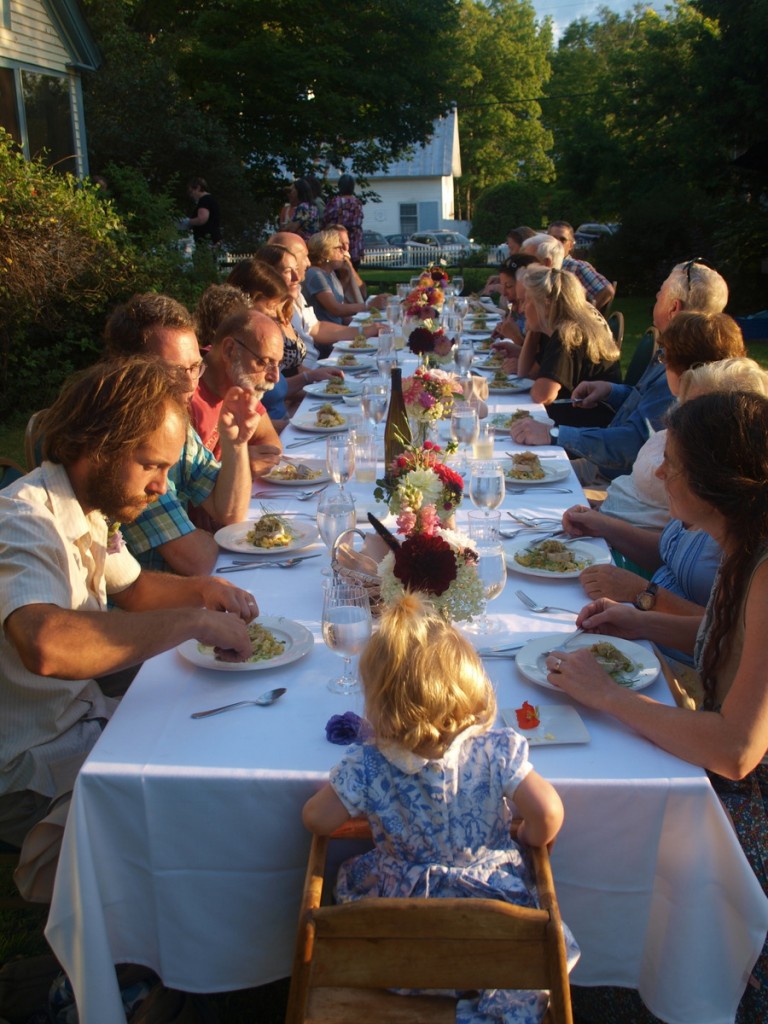 Join our Floating Bridge Food and Farms Cooperative for our annual Farm-to-Table Feast lakeside on the lawn at Ariel's Restaurant.
Picture an Italian Vineyard, with all your friends and family dining at long tables, beautifully set with colorful seasonal flowers, enjoying extraordinary food and delicious wines, the late summer sun setting over the lake.  We may not have the vineyard, but we have all the other elements to make an unforgettable evening at Ariel's, in celebration of the local farms of the Floating Bridge Food and Farm Coop.
Abundant platters of Antipasto, grilled sourdough foccacia, vibrant marinated vegetables and salads served with aioli made from farm eggs,  roasted heads of pungent garlic, cured meats and local cheeses will be followed by wood fired oven Porchetta, made from Green Mountain Girls Tamworth pigs, eggplant layered with Ariel's house made ricotta cheese and flavorful heirloom tomatoes, creamy polenta piled with foraged wild mushrooms.  To end the feast there will be blueberry crostatas, with house made lavender honey ice cream and Fat Toad Farm goat caramel.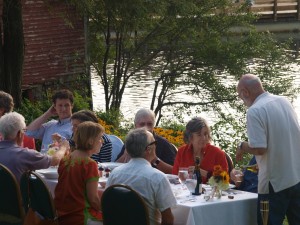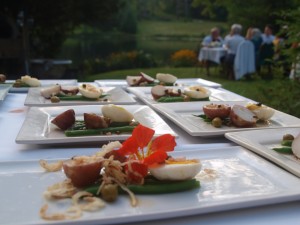 The price of this extravagant evening is $68.00 per person, including food and service.  Dinner will be served at long tables on the lawn overlooking Sunset Lake, weather permitting.  If nature doesn't cooperate, dinner will be served in Ariel's dining rooms.
Wines and a special signature cocktail will be available for purchase during our "meet the farmer" happy hour, and during dinner.
Our farmers will be offering tastes of their products from 5:00-6:00, dinner will start promptly at 6.
We hope you will join us to celebrate the end of summer, the abundance of local products and the beauty of Brookfield!