We are a bit behind on naming and introducing the first batch of piglets that were born at the farm on March 1st.  Fortunately, a young visiting writer & photographer prepared some profiles of each of Grizabella's six piglets, her first litter.
The naming scheme this year is Ski Areas, for this first litter the name are purely from Vermont Alpine ski areas.  But there are 4 more litters to come as well as chicks and turkeys, so send forth any of your other favorite ski areas as possible names.  From the photos you'll see that while these piglets are a cross between a purebred Large Black sow (Grizabella) and a pure Tamworth boar (Rin Tin Tin), the Large Black genetics are quite dominant.
Soon they will be accepting visitors during Thursday evening farmstand hours!
The sow Grizabella (Group Photo)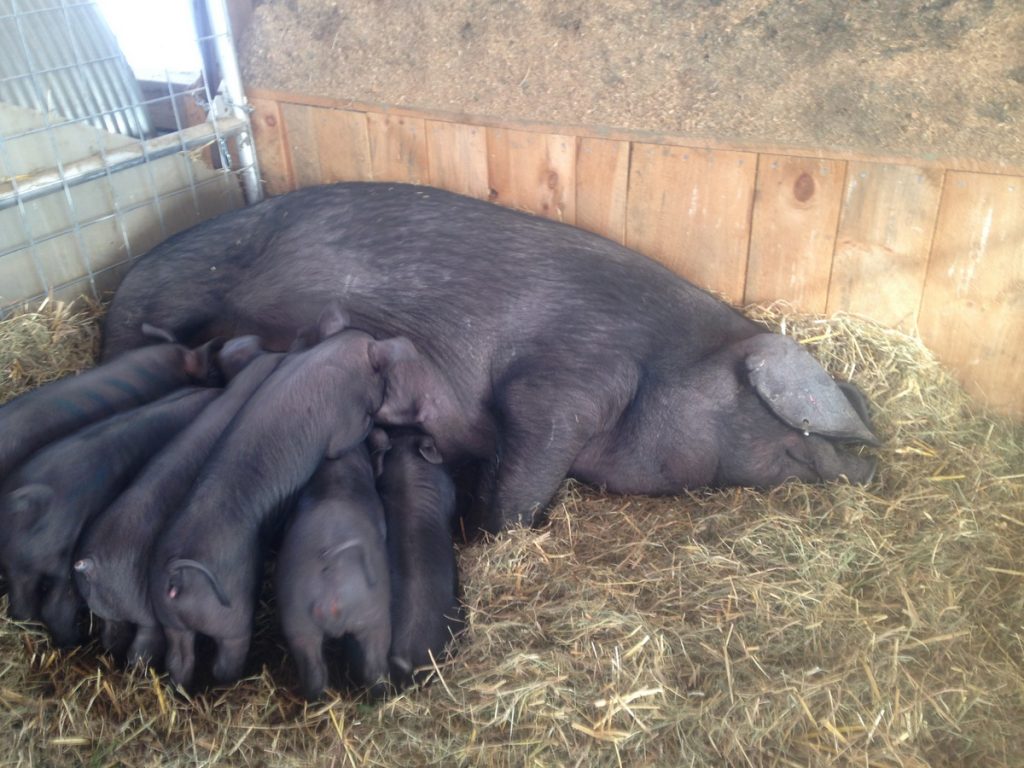 Smugglers Notch (Smuggs)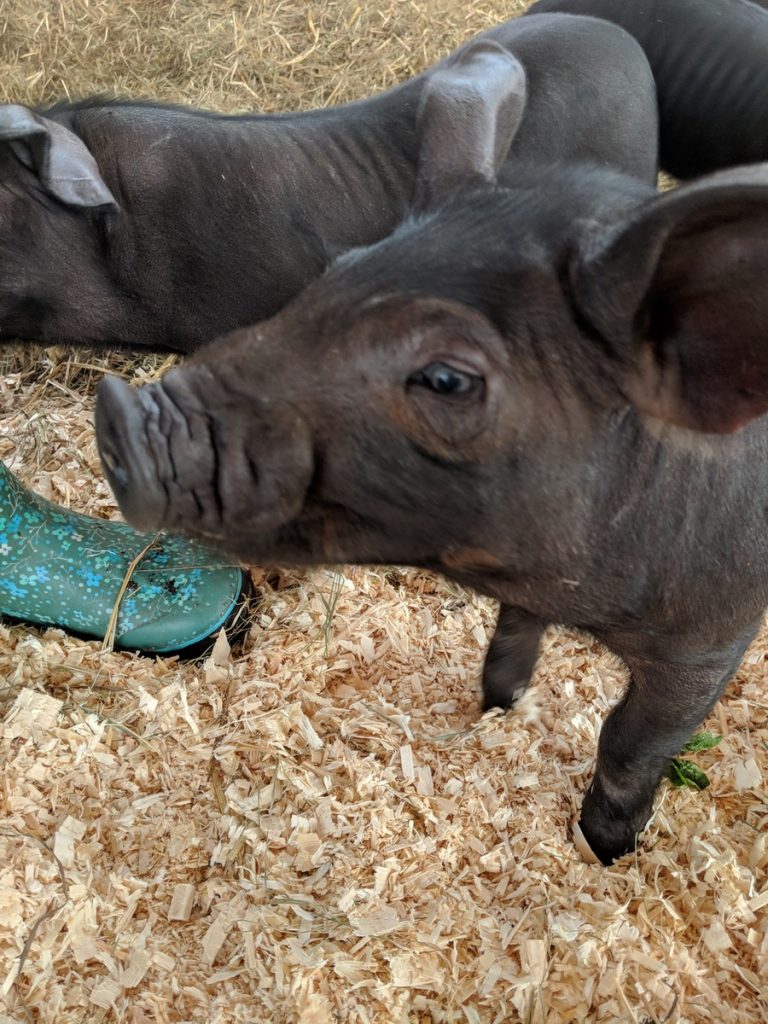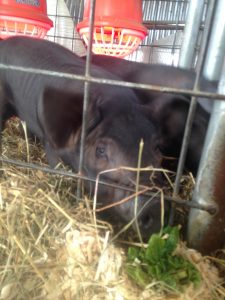 Smugglers or "Smuggs" is a male piglet who is one of the biggest in the litter. He is recognized by his notable red hair that surrounds his eyes and red whiskers. He found hiself to be very photogenic during the photoshoot and kept attempting to "smuggle" himself into all the pictures.
Bromley (Stubbs)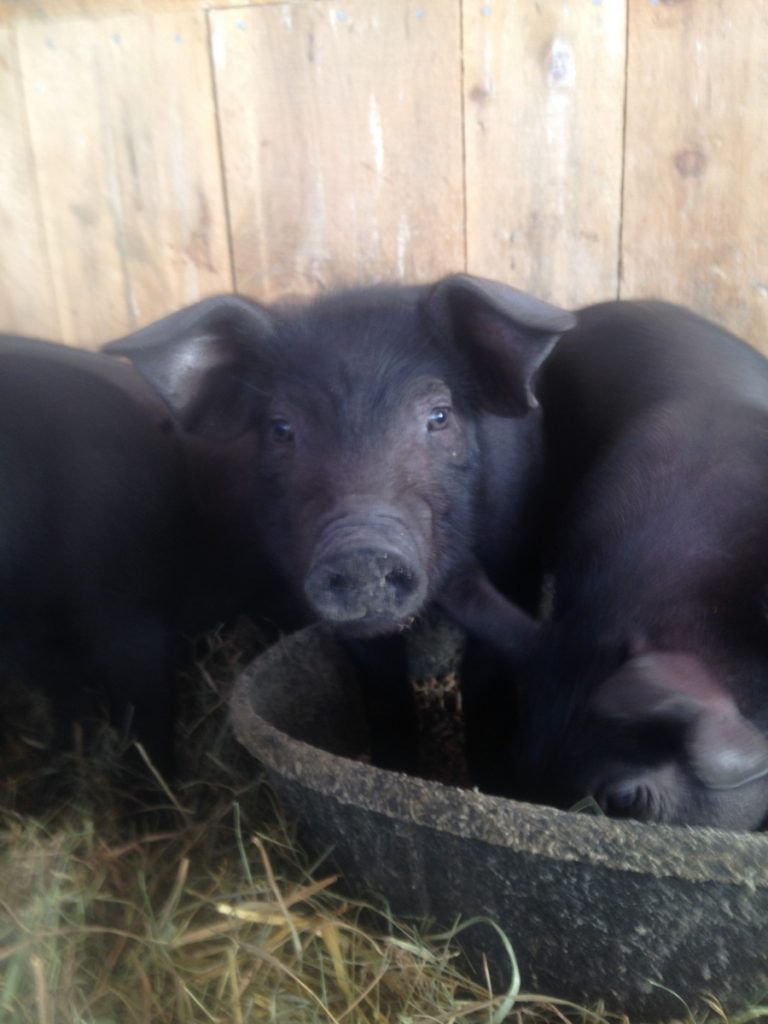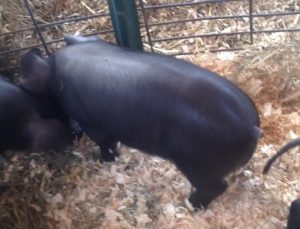 Bromley A.K.A Stubbs, is a male piglet and who is particularly small in size. His tail was stepped on by his mother when his was born and fell off, hence "stubbs." He is distinguished by his severed tail. He was especially friendly from the beginning and was the second pig to roll over for a belly rub. He frequently scratches himself on hay bales and posts.
Magic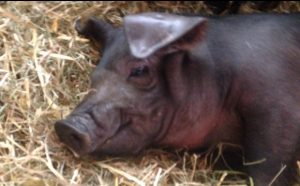 Magic named after the ski mountain located in southern Vermont is a female piglet. She is reconized by her thin coat and ears, one sticking up and one hanging down and flapping about but are both pink at the bottom. She was also particuarlly friendly from the beginning and was one of the first to fall over for a belly rub. She enjoyed trying to eat the camera while having her photo taken. She is medium sized and very sweet and sociable.
Pico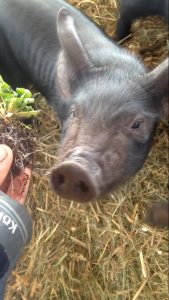 Pico is a female piglet named after the ski mountain visable from interstate 89 and where Mari grew up skiing. She is a small and distinguished by her jet black hair and many skin wrinkles on her sides. Her hobbies are biting at the cuffs of your pants and boots and sprinting laps around the barn. She was very keen to discover the outside world and was the first to venture out of the piglet area.
Sugarbush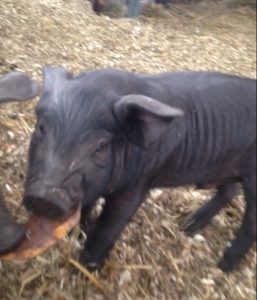 Sugarbush is a male piglet who is recognized by his enormous slightly pink ears and his not very big body. His hobbies consist of wrestling with his brothers and sisters specifically Magic and Smuggs, digging his nose into the hay and pushing it around, and pilfering banana and onion peels from his larger aunties. Magic and Sugarbush resemble each other aside from their ears and genders.
Bolton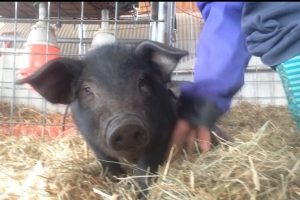 Bolton is a male piglet named after Bolton Valley ski area located not too far from here, is recognized by his large floppy ears and is one of the biggest in the litter. He has the appearance of a bruiser but not the personality of one. He enjoys belly rubs, getting milk from his mom, cantering around the enclose with his siblings, chilling out on the porch and digging his snout into the ground, and climbing fully into the food bowl to ensure maximum grain consumption.
and Rin Tin Tin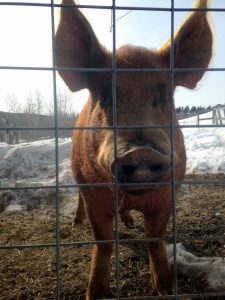 Thanks to Sophie, our visiting writer/photographer, for her piece and for patience with the interviewees, which you can see from the video didn't always cooperate.