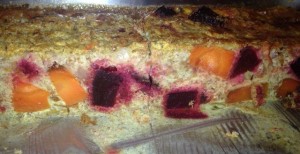 What a great different way to enjoy the abundance of eggs along with the solid staples of our root veggies and have something baking in the oven during these cold days!  Thanks Donna for another great recipe idea.
4 C root vegetables (I used beets and carrots)
1 1/2 C Onions – chopped
1 clove garlic – crushed
Salt and pepper
Thyme
Lard
1 Dozen eggs
1 C milk
2 1/4 C Breadcrumbs
Parmesan cheese, grated
Pre-heat oven to convection 375
Put a large roasting tin in the oven with about 2T lard.
Wash and chop (skins on) the root vegetables, into roughly 1″ chunks. Put them in a large bowl and toss them with S & P and thyme (to taste).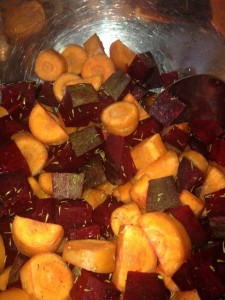 Tip veggies into hot lard and toss them to get a good coating. Roast for 45 minutes until tender.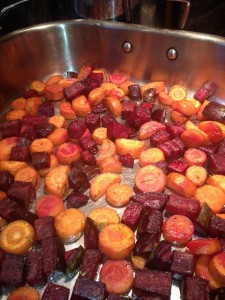 Sauté the onions and garlic in lard until golden.
Mix the root veggies and onion mixture together and tip into a greased 9×13 (approx) pan.
Beat together the eggs, milk and 2 C breadcrumbs (I did it in a food processor). Then pour over the veggies.
Sprinkle 1/4 C breadcrumbs over the top, and finish with grated Parmesan, to taste.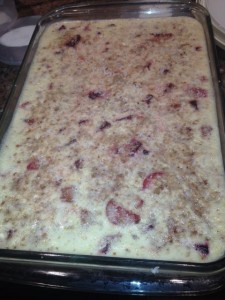 Bake at convection 375 for 35 minutes, until golden and firm.