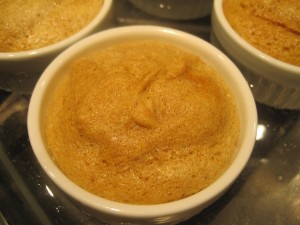 Fancy appearance, yet really easy.  And a fun, light treat.  They are pitched as dessert, but they are so light they could be anytime.  Or you could go purely savory with a carrot soufflé. (And use the entire egg!)
1.5 cups pumpkin purée (or squash purée)
1/4 cup maple syrup
1 tsp each of cinnamon & ground ginger
1/2 tsp ground cloves & pinch of nutmeg
Mix above together, the add 2 tsp lemon juice & 1/3 cup sugar and beat together.
1 T sugar
4 large egg whites
1/2 t baking powder
Heat oven to 375°F.  Grease 4 (or more) 8 oz ramekins or soufflé dishes.
Beat egg whites until they are foamy.  Sprinkle the baking powder and 1 Tbsp sugar on top. Resume beating until the whites are stiff but not dry (like shaving foam.)  Fold about 1/3 of the eggwhites into the pumpkin puree until the mixture becomes lighter and you can't see any whites.  Fold in another 1/3, and then the last 1/3, just until incorporated.
Using a rubber spatula, carefully distribute the soufflé mixture evenly among the prepared dishes.  Place the dishes inside a larger, deep baking dish.  Add enough hot water to the larger dish to come halfway up the sides of the custard cups.  Bake until the soufflés are puffed and golden brown, about 25 minutes.  Serve right away.