Recipe by Diane Fish as published in the Kitsap Sun Farm to Fork blog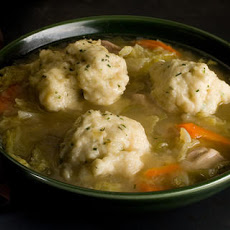 Place a large (or two small) stewing hen in a pot with 1 onion, 3 stalks celery, 3 large carrots, two bay leaves, sage, thyme, parsley and 1 Tbsp peppercorns.  Cover with water. Simmer 2-3 hours on low. This can also be done in a crock pot on high for 4-5 hours or 8-10 hours on low. Strain stock, discard vegetables (our dog finds them delicious), shred chick off the bones and reserve. To capture the lovely schmaltz you will want to cool either the whole pot or strain and then chill the stock to skim off the lovely schmaltz fat!
For the Stew:
2 Tbsp chicken fat or olive oil
2 small onions, diced
1 pound carrots, diced
3-4 garlic cloves thinly sliced
4 c stock
4 c shredded chicken
2 Tbsp fresh thyme (1 Tbsp dry)
Salt &  Ground black pepper
Saute veggies in oil or fat until onions are tender, add stock, bring to simmer and cook until vegetables are tender.  Add shredded chicken and thyme.  Season with salt and pepper to taste.
Dumplings:
2 cups ricotta (or homemade chevre) cheese (make your own)
1/2 c fresh chives, sage, thyme or other herbs, chopped
1 egg
1 c corn meal
1/2 c flour
3 tsp salt
Mix all ingredients together, do not over mix.  Drop by spoonfuls into the simmering stew.  (Tip: use an ice cream scoop for nice round dumplings.  Cookie-sized for small ones, regular-sized for big ones).  Simmer small dumplings 4 minutes or until tender, larger dumplings will take 7-9 minutes.  Turn them over and simmer for 2-3 minutes longer.  Serve hot.  You will be tempted to lick the bowl.
Winter Variation:  Add Potatoes to the stew, sage in the dumplings instead of chives is also good.