Or…around here… charred pepper goat shank sauce or pork roast sauce or even roasted chicken sauce, but now with Greenfield Highland Beef on hand, it would be lovely on one of their steaks! With some feta crumbled on top? Mmmm, I can see it now.  We also want to try this with some of the other peppers…perhaps a roasted green chili version…yum!
Recipe adapted from Smitten Kitchen
Ingredients
Based on 1 pepper…but easy to do this in larger quantities.  Also easy to drop and/or add ingredients based on what you have available.
1 large red bell pepper
2/3 cup canned or fresh tomato purée
1 Tablespoon chopped shallot or onion
1/4 cup orange juice
2 tablespoons Worcestershire sauce
2 tablespoons olive oil
1 tablespoon balsamic vinegar
1 tablespoon molasses or maple syrup
3/4 teaspoon salt or more to taste
1 teaspoon ground mustard
1/2 teaspoon ground or fresh ginger
1/4 teaspoon ground black pepper
1/8 teaspoon ground allspice
Directions
Preheat your broiler. Place your pepper on a baking sheet and cook it under the broiler until all sides are charred, turning with with tongs as needed (5 to 15 minutes). Let pepper cool until you're able to handle it, about 15 minutes.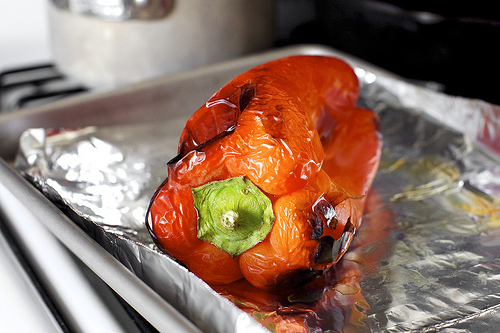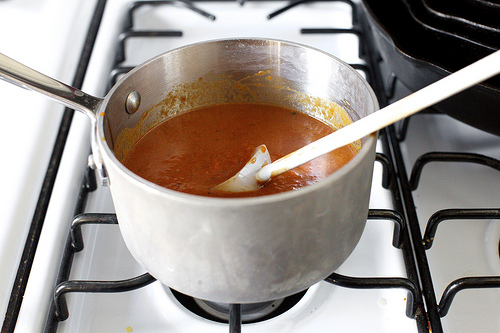 Tear open the pepper and remove the seeds and membranes with your fingers or a paring knife. Add the pepper (with its skin) to the blender or saucepan if using immersion blender along with the remaining ingredients. Puree mixture  until as smooth as possible. Transfer mixture to a small saucepan (if used a blender). Simmer it gently over low heat for 15 minutes, stirring from time to time.
Store in an airtight jar in the fridge for one week, though I suspect it will keep for two.