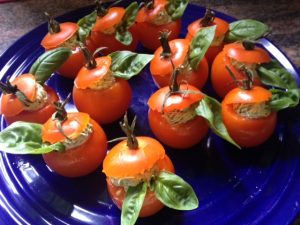 Donna got inspired again for delicious and pretty!  
Ingredients:
20 Small Tomatoes (I used Jaune Flamme)
8oz Cream Cheese – softened
4oz Cilantro Pesto (or any of the pestos offered by GMG)
Salt & Pepper
20 Basil Leaves
Directions:
Slice a tiny piece off of the bottom of each tomato, so that they can stand on a plate.
Slice the top off of each tomato.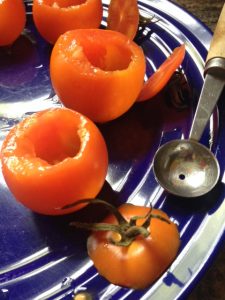 Use a melon-baller to scrape out the inside of each tomato.
Mix the softened cream cheese with the pesto and add salt and pepper to taste.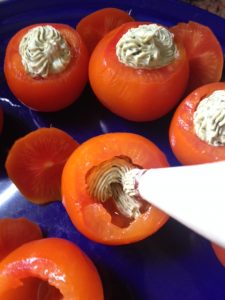 Use a small spoon or icing bag to fill each tomato with the cream cheese mixture.
Add a basil leaf and replace the top on each tomato.
Serve, eat and enjoy!