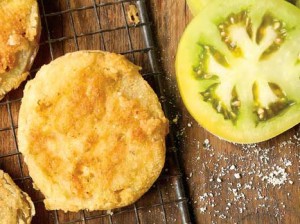 Fresh ripe tomatoes are generally the stars of the tomato show, but green tomatoes have their own special value.  We don't have the volume that comes at the end of the tomato season, but plenty for a nice treat! Fried green tomatoes are tasty and quick to make (and great with hot sauce) – take some firm ones home and they'll last all week.  This is the recipe Penelope, who used to farm with us, treated us to at farmer lunch several times.  So yummy!
Ingredients
3 large green tomatoes
1 cup all-purpose flour
1 Tbsp salt
2 tsp chili powder or spicy seasoning mix
1/2 cup milk
1 egg
1 cup bread crumbs or cornmeal
1/4 cup oil or fat
Preparation
Cut tomatoes into thick slices (about 1/2 inch).
Place in separate shallow bowls: (a) the flour, salt, and chili powder, (b) milk and egg, and (c) bread crumbs and cornmeal.
Heat the oil in a skillet on medium heat. Beat the egg and milk together. Dip tomato slices in the flour-seasoning mix, then milk-egg mixture, then the bread crumbs.
In the skillet, fry the coated tomato slices, a few at at time, for 3-5 minutes on each side or until brown.
Set the cooked tomatoes on paper towels to drain.