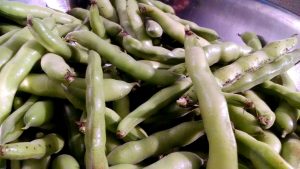 Adapted from Gourmet Magazine & Epicurious
INGREDIENTS
3 cups peeled shelled* fresh fava beans (2 1/2 pounds in pod) (fresh ones may not need to be peeled)
1 teaspoon plus 2 tablespoons olive oil, divided
2 medium onions or scallions, chopped
Fine sea salt
Generous handful of mint, roughly chopped (about 1/2 cup)
Cook fava beans with 1 teaspoon oil in boiling unsalted water until tender, 6 to 8 minutes, then drain.
Cook onions in remaining 2 tablespoons oil in a medium skillet over medium heat, stirring, until just crisp-tender, about 4 minutes. Add beans and cook until just heated through, then season with sea salt and pepper. Toss in mint. Serve immediately.
Cooks' note:
Fava beans can be shelled and peeled (but not cooked) 1 day ahead and chilled, covered.
Tips on how to shell and peel, if needed, your Fava Beans  —
Tender, fresh Fava beans don't need to have their inner skins peeled.  To release the beans, break open each pod by tearing off the end and pulling the string-like seam down. Slide your finger along the seam to open the pod. If that doesn't work, you can also try twisting the pod and using your thumb to open it.
If you need, or want to peel inner skin off bean, after freeing them from the pod, bring a pot of salted water to a boil. Drop beans into pot and blanch 1 minute. then drain and put in cold water to stop the cooking process. Then you can squeeze the beans to pop them out of their outer skin.
Martha Stewart has some other ideas about using Favas as well!