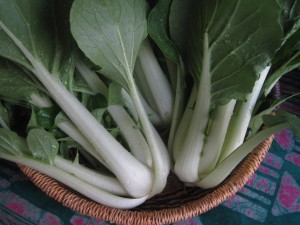 So great to see some sun, we started to wonder if it would ever shine again.  Given the recent weather we are super thankful for all that is in the hoophouses!  And there are big, gorgeous heads of lettuce and bok choy this week making way for peppers!
This week at our Farmstand you can find:
• Eggs (members only as they are very limited – hens are hating the rain)
Fresh/Stored Veggies & Herbs
• Beet Greens with some baby beets
• Bok Choy*
• Broccoli, Frozen
• Baby Carrots with Greens (limited)
• Chard
• Chives
• Cilantro
• Edible Flowers for salads
• Ginger, Baby (frozen)
• Kale
• Lettuce Heads*
• Lovage (celery substitute)
• Mint
• Onions
• Oregano
• Scallions*
• Spinach
• Spring Salad Mix
• Stir Fry/Braising Mix
• Tomatoes, Frozen

Meats      
• Bacon, Maple Smoked
• Maple Breakfast Sausage, Farmhouse bulk
• Bones, Pork & Goat
• Chicken, Roasting
• Chicken, Stewing Hens
• Fat, Pork Leaf
• Fat, Pork Back
• Ground Goat
• Goat Shoulder Chops, bone -in
• Ham Roasts & Steaks
• Italian Pork Sausage, bulk
• Pork Jowl*
• Leg of Goat Roasts*
• Loin Roasts, Goat*(small)
• Offals – Trotters, hearts, liver, kidneys, necks, etc.
• Shanks, Goat
• Stew Meat, Goat
Pantry & Prepared Foods

• Beet puree
• Heirloom Tomato Bloody Mary Mix
• Bone Broth, Chicken, Pork and Turkey
• Bread & Butter Squash Pickles
• Dilly Beans
• Lard (Leaf)
• Lemon Pickles
• Pâté, Turkey Sage
• Pepperoncini
• Pesto, Arugula, Basil & Garlicky Kale
• Heirloom Tomato Salsa
• Soup, Roasted Carrot Ginger, Creamy Spinach, Broccoli-Spinach & Cream of Spinach
• Tomolives (pickled green cherry tomatoes)
• Dried Hot Peppers
• Dried Tomatoes
From our Farm Friends    
• Blueberries, Frozen from Spotted Dog Farm
• Honey, Brookfield Bees
• Maple Syrup, Brookfield Bees
• Cider Syrup, Brookfield Bees
This Week's Member Special
All of the above is available for members and retail shoppers, but we also offer some specials for our members.  To learn more about our flexible, free Choice Farm Share memberships, see the details on our website.
•  Bok Choy

•  Lettuce, Heads 
•  Scallions

• Leg of Goat Roasts, Great for slow roast
• Goat Loin Roasts, bone-in & quick (see recipe)
• Pork Jowl