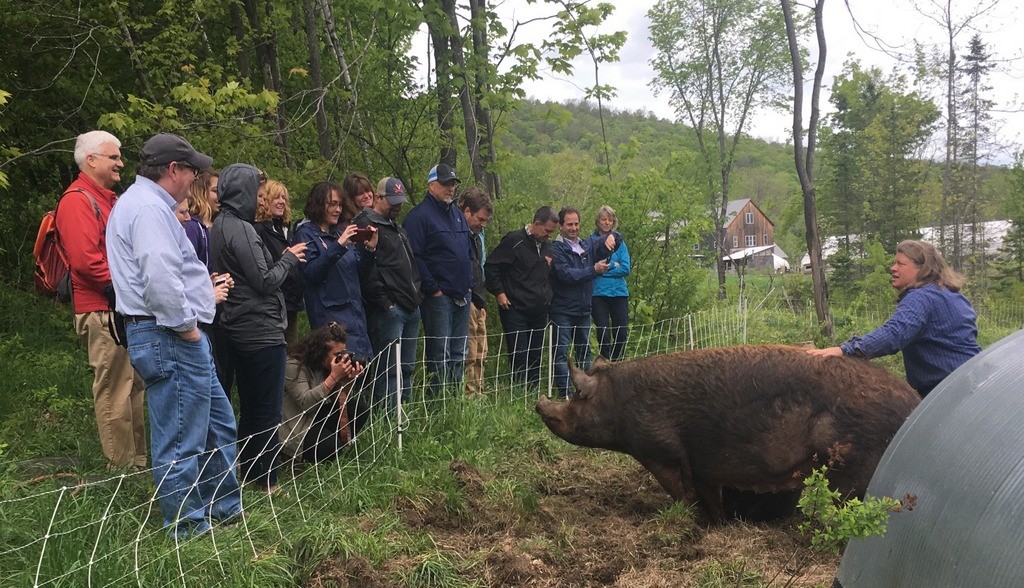 A visit from "retreating" (advancing?) members of the Intervale's Board of Directors last week gave us a refreshing opportunity to reflect in the middle of an action-packed week. We left the exchange inspired by the conversations.
We were asked "How has the work of the Intervale Center influenced your farm?" First of all, Intervale's slogan "We believe good food can change the world", heartens us in our resolve to produce high quality food.  The Center's website talks about radiating influence…
Our mission is to strengthen community food systems. Founded in 1988, the Intervale Center manages a 360-acre campus of farmland, trails and open space along the Winooski River in Burlington, VT. Our influence radiates out from this beloved place as we work across Vermont to enhance farm viability and land sustainability, and more broadly as we serve as a model for food and farming organizations throughout the world.
As for concrete benefits… the original mega-spreadsheet we use for our crop plan came from Andy Jones and team at the Intervale Farm. Our farm viability coach Mark Cannella was staff at the Center. And what about the less tangible influences? We continually celebrate the collaborative spirit amongst Vermont's farmers. We  have left many a winter conference with learning and innovations shared from the farms at the Intervale. We left our meal and time with the board with renewed hope as well as gratitude for all the shoulders we stand on and all that will radiate still from the ambitious good work at the Intervale.