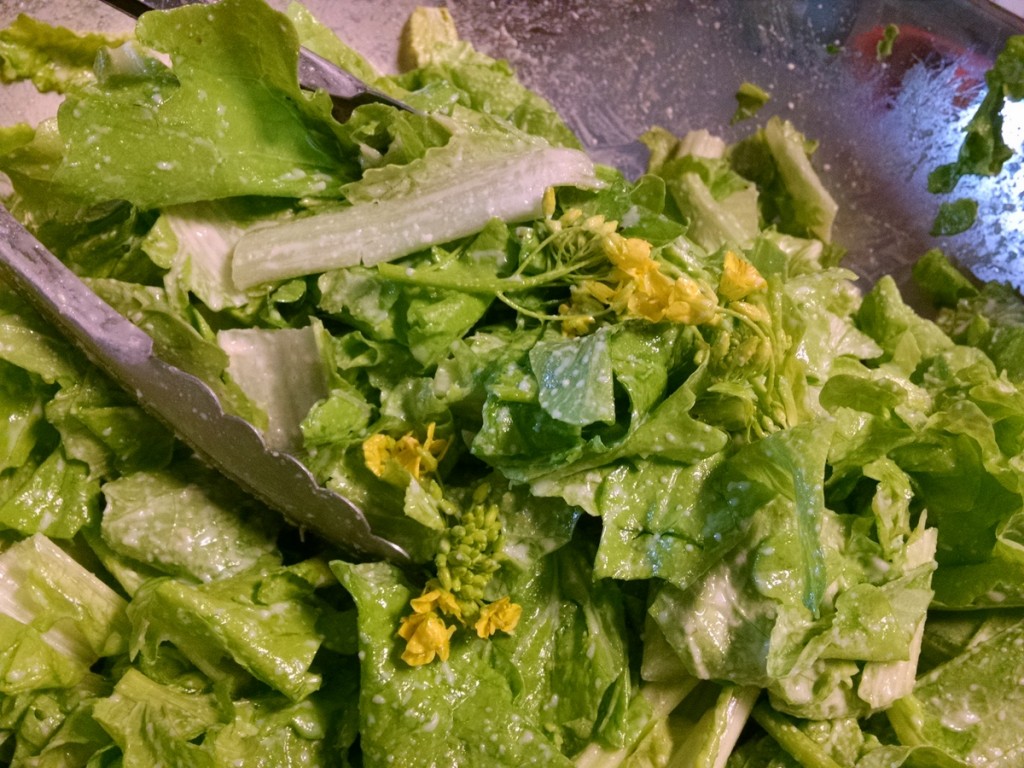 So…many of us love that crunch and creaminess of a Caesar Salad, so we love to shift around some ingredients to what we have in season.  This week – you can do it with either the versatile Tokyo Bekana or with some small Romaine heads.  And you can go for the true Caesar dressing, or this quick, tangy lovely Feta Buttermilk dressing — it fits the bill.
Salad
Plenty of Tokyo Bekana: it is truly in the cabbage family, but mild, crisp and lovely.  It can also be stir fried or makes a good substitute for Napa Cabbage.
Edible flowers (optional)
Croutons, technically optional, but what a treat!
Dressing:  Zesty Feta Buttermilk (inspired by Moosewood Daily Specials)
3/4 cup crumbled Feta
2/3 cup Buttermilk (Mountain Home's Buttermilk is local, grass fed and so good!)
2 Garlic cloves
2-3 Tablespoons Apple Cider or Artesano's Honey Mead Vinegar
1/2 cup Olive or sunflower oil
Salt & Pepper to taste
2 teaspoons dill or other herb of choice (optional)
In a blender, immersion blender or food processor combine all ingredients except buttermilk, salt & pepper and puree until smooth.  Gradually pour in buttermilk and process until creamy.  Add salt and pepper to taste.
Dressing keeps well for a week or more in the fridge.  We often double the recipe and make this dressing of choice for the week!