The overwintered spinach is so meaty and sweet, it is lovely in so many ways, including a bit wilted with a warm dressing.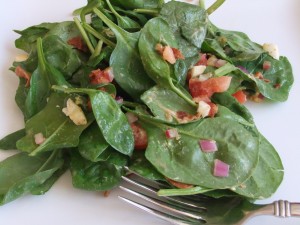 Hot Bacon Dressing From Jennifer McLagan's "Fat, an appreciation of a misunderstood ingredient"
A few pieces of bacon crumbled
1/4 cup of bacon fat
1 Tablespoon diced shallots
2 Tablespoons sherry vinegar
2 Tablespoons dry white wine
Salt & pepper
Put the bacon fat in a small pan on the stove. Add the shallot and cook over medium heat until it just begins to color, about 5 minutes. Add the vinegar, bring to a boil, and deglaze the pan, using a wooden spoon to scrape up any browned bits (especially if you are using the same pan you cooked the bacon in).  Add the wine, season with salt and pepper and return to a boil.  Pour the hot dressing over the greens and bacon bits, toss well and serve immediately.
We had saved a few pieces of cooked bacon from the day before and just used saved bacon fat from cooking which made it a quick and easy recipe.
And it goes nicely with pork and roasted roots for a great seasonal meal