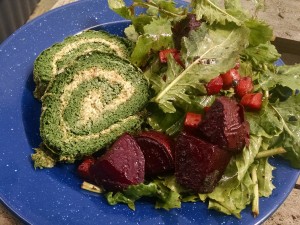 This was Donna's gorgeous creation the last time spinach was plentiful.  She adapted it from a BBC Good Food recipe. And yes, spinach is again plentiful and what a good weekend for a cooking project!  We enjoyed it both warm and cold or room temp for the leftovers. 
Ingredients
5 Eggs, separated
16 Cups washed Spinach (14 oz)
1 Tablespoon Plain Greek Yogurt
3 Tablespoon Self-Raising Flour
Salt & Pepper
Parmesan Cheese
4 oz Goats Cheese
2 oz Pesto
1 oz Plain Greek Yogurt
10-12 sundried tomatoes
Heat oven to 325F and line a Jelly roll tin/ Cookie sheet with edges (9 x 13) with parchment paper. Wilt the spinach by placing in a colander or bowl and pouring over boiling water, or you can steam it. When cool enough to handle, squeeze out as much juice as you can. Tip the spinach into a food processor and add the egg yolks, 1 tbsp greek yogurt, plenty of seasoning and the flour. Blend until really finely chopped and well mixed.
Whisk the egg whites until stiff, and then fold into the spinach mixture. Spread in the tin and bake for 20-25 minutes until firm to the touch.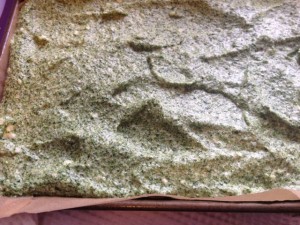 Meanwhile, place the goats cheese, pesto, 1 oz Greek yogurt and tomatoes into the food processor and blend until creamy.
Put a sheet of parchment paper on the work surface and dust with a little Parmesan. Turn the baked spinach "cake" onto the work surface and carefully strip off the paper used for baking. Place another piece of parchment paper on the "cake" and roll up from the shortest end using the paper to guide you.
Allow it to cool for a few minutes then unroll, remove the paper and spread with the cheese mixture, then re-roll. Serve while warm, or chilled.