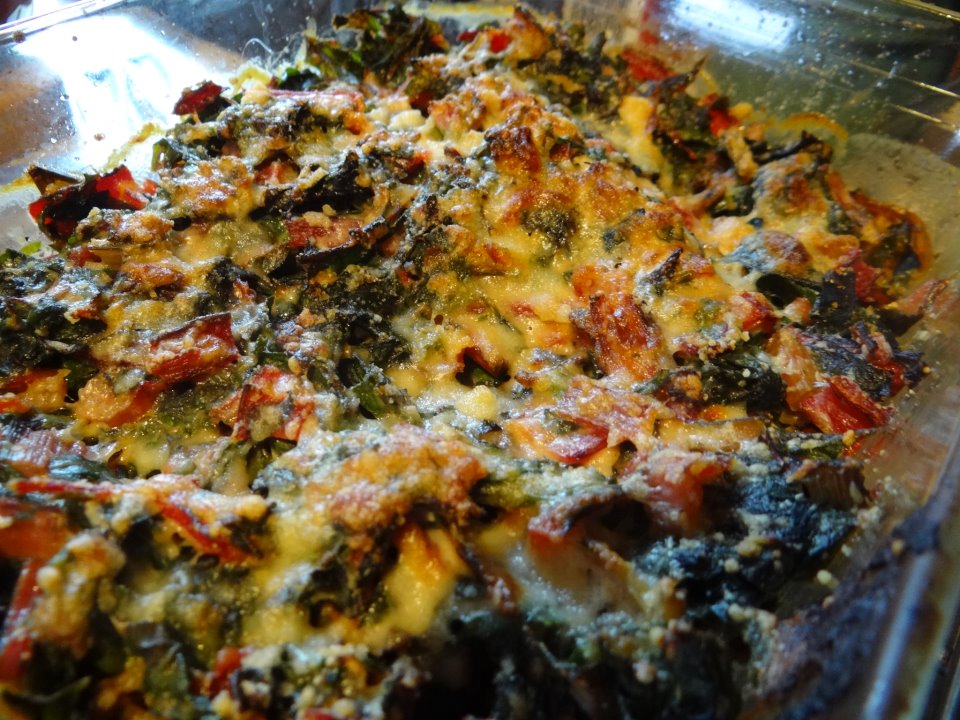 We debuted this dish at a farm supper and concert five years ago, and it turned out to be quite a hit and remains one of our event standards.  Creamy chard steaming with sweet onions under a layer of bubbling, browning cheese…need I say more?
I have been craving this lately, so made a household size batch (what a concept) and even with the fresh greens becoming more plentiful, it is such a treat to have some of this ready to go with some meals.  Note — it is excellent left over and you can freeze it as well – just freeze before putting in oven for the melding.
Check out the recipe (adapted from the New York Times's Recipes for Health column), and convert any remaining chard-naysayers you may know with this new favorite of ours:
Ingredients
2 large bunches chard with thick stalks or other cooking greens (Choy, Mustard, Kale, or a mix)
Salt to taste
1 to 2 garlic cloves, minced
1 medium onion, chopped and sauteed until soft
1 recipe olive oil béchamel or any other bechamel
Freshly ground pepper
1/3 cup freshly grated Parmesan
Directions
1. Bring a large pot of water to a boil while you stem the chard. Fill a bowl with ice water. Wash the greens in two changes of water, and set aside. Wash the stems thoroughly, trim away the ends and slice crosswise about 1/2 inch thick. When the water in the pot comes to a boil, salt generously and add the chard stalks. Turn the heat down to medium, and boil gently for five to seven minutes until the stalks are just cooked through. Remove from the pot with a skimmer or a slotted spoon, and drain on paper towels.
2. Bring the water in the pot back to a boil, and add the greens. Blanch for one to two minutes until tender, and transfer to the ice water. Allow to cool for a couple of minutes, then drain and squeeze out excess water. Chop.
2. Preheat the oven to 425 degrees. Oil a 2-quart dish. Combine the cooked chard stems and greens in a large bowl. Add the garlic, onions, béchamel, half the parmesan, and freshly ground pepper to taste. Gently stir together, and scrape into the gratin dish. Sprinkle the remaining Parmesan over the top. Place in the oven for 15 to 20 minutes until the top begins to brown. Remove from the heat, and allow to cool until the bubbling has subsided, then serve.
Per the recipe's "advanced preparation" suggestion, we made our chard gratin the day before serving it, stashed it in the fridge, and on the day of, sprinkled it with some parmesan and popped it in the oven.