Adapted from:  SeriousEats.com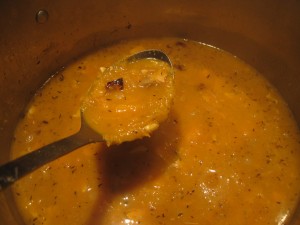 This continues to be one of our most favorite and most requested soups. We discovered it several years ago and it was the tastiest soup we had made in ages. Bonus is that it is really simple and can easily follow a yummy roasted chicken or roasted turkey meal (yes, perfect for holiday leftovers!) and you can easily scale it up – we know because we served it to 15 people the first time we made it.
The original recipe called for skinning and cutting up the squash before roasting, but that seemed much harder than roasting separately. Plus then you can have a nice roasted dinner first!  But the soup is also good enough to justify roasting some poultry just to make it.
1 large or 2 medium squash – butternut, buttercup, pumpkin.. your choice
1 medium onion, diced
Roasted Turkey or chicken (about 1-1.5 lbs per quart of stock)
Olive oil or poultry fat or bacon fat – to basted chicken and squash
Salt and pepper to taste
4 cups poultry stock
1/2-1 teaspoon ground cumin
1/2-1 teaspoon ground coriander
1 tablespoon lemon juice
Fresh cilanto, for garnish
Directions:  
If making soup from raw ingredients (instead of leftovers)
Roast Chicken or Turkey – Using Mark Bittman's Simple Roast Chicken recipe or Brine & Roasted Turkey. Use fat from previous roast chicken, olive oil or bacon fat to basted chicken.
Roast Squash: slice in half, remove seeds, spread with your choice of oil and herbs and roast around 400 degrees till done.
Roast/Saute onion – either with chicken or squash or just in the soup pot with some oil.
When Chicken is done.  Cut/pull meat from the bones and cut into chunks and set aside.
When squash is done, scoop from skins and put in soup pot with onions, chicken/turkey stock, cumin and coriander and bring to a simmer.  With a potato masher or wooden spoon, mash up the soup (really the squash in the soup), it will remain somewhat chunky.  Then add lemon juice and chicken pieces.  Stir and add salt and pepper to taste (it will depend a lot on how much salt and pepper you used in roasting the chicken and squash. ) Add a bit of the pan roasting juices from the chicken/turkey, this is the key to the best version of the soup.
Top with cilantro in your bowls and enjoy!
Leftover version:  Enjoy your roast chicken or turkey with squash dinner(s).  Saute some onions in a soup pot with some yummy fat (poultry would be ideal), then add your leftover squash, some stock, and spices.  Heat to a simmer, add a bit of lemon juice and some leftover chicken or turkey. If you haven't turned it all into gravy, add some of the pan roasting juices to the soup. Voila – soup.