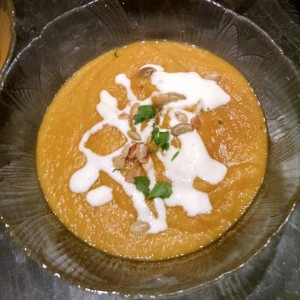 This recipe, courtesy of Laurie McIntosh, was one of the dishes at the Seasonal Sides Cooking Class last year.  It sure is soup season.  Delicious!
For 8 servings
2 medium winter squash (~4lbs)
3 tbsp olive oil
Salt & Pepper
2 white corn tortillas, torn into large piecers
4 carrots, chopped
1 red onion, chopped
1 red Fresno or jalapeno chile, chopped, and seeded if less heat is desired, or could use dried hot peppers or even pickled jalapenos
2 cloves garlic finely chopped
1 tsp ground cumin
4-6 c. chicken broth, vegetable broth, or water
1 c. apple cider, reduced from 2 cups
½ – 1 c. heavy cream
Crème fraiche or sour cream for garnish
Toasted pumpkin or squash seeds for garnish
Preheat oven to 425°.  Cut the squash in half lengthwise and scoop out seeds. (You can clean these out and roast them for garnishing the soup)  Rub all over with a bit of olive oil and season cut side with salt & pepper.  Arrange cut-side down on baking sheet and roast until very tender, about 30 minutes; a fork should easily pierce the skin.  When cool enough to handle, scoop flesh into a bowl and discard skin.
Heat 2 tbsp. olive oil in large pot or Dutch oven over med-hi heat, this will be your soup pot.  Add tortilla pieces and cook, stirring occasionally until browned, about 3-4 minutes.  Add carrot, onion, chile, garlic, cumin, 1 tsp. salt, and a few grinds of pepper.  Cook, stirring, until onion has softened, about 4 minutes.
Add squash and 4-5 cups broth (or mix of broth & water) You may want to add more water or broth later depending on thickness, but this allows for adding the cider and cream at the end.  Bring to boil, reduce heat to med-lo and simmer until carrots are very tender, about 25-30 minutes.  Remove from heat, let cool slightly, then puree with stick blender or in batches in a blender.  Put back in pot, add cider and heavy cream to desired consistency and warm through, adjusting seasoning as desired.
Mix crème fraiche or a dollop of sour cream with a bit of heavy cream to make a drizzle. Garnish soup with drizzle and toasted pumpkin seeds.