Or depending on the audience you could call them Pretty Pink Pancakes or what they are…beet pancakes.  They are quite spectacular, we love them with some blueberries or other fruit, adding to the mornings color with some yogurt or even plain chevre on top!
Mari figured this out last year and has continued to play with it, as it is with pancakes,. Thus we don't have a firm recipe. Instead, we have used our basic sense of pancakes or even adding the pureed beet to Nitty Gritty Grains cornmeal pancake mix (a nice local mix of cornmeal and flour) – that might have made the best batch.
Here is an option to get you started.  If you have it, I would replace some of the flour with cornmeal.  This version is from Weelicious, serves 6.
1 Cup All Purpose Flour
3/4 Cup Whole Wheat Flour
3 Tbsp Light Brown Sugar or maple syrup
1 Tbsp Baking Powder
1/2 Tsp Kosher Salt
about 1 cup beet puree (2 medium beets roasted or boiled and pureed*)
1 1/4 Cup Milk
1/3 Cup Plain  Yogurt
1 Large Egg
3 Tbsp Unsalted Butter, melted
1 Tsp Vanilla extract
1 cup or so of Blueberries (optional, but delicious)
Place the dry ingredients into a mixing bowl.
Put the rest of the wet ingredients into a separate bowl and mix well.
Add the dry ingredients into the wet and stir until just combined (you don't want to overstir the batter — some lumps are good.  Stir in blueberries, if using.
Drop about 2 tbsp of the pancake mixture onto a greased griddle or pan over medium heat and cook for 3 minutes on each side.
Serve with desired toppings!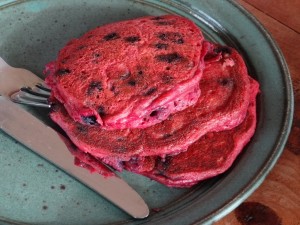 *To make the Beet Puree:
Wash and cook beets (no need to peel, just trim), either boil for 30 or so minutes until tender (longer for larger chunks), use leftover roasted beets, or bake in oven until tender.  Drain well and then puree in food processor or with immersion blender until smooth. You can make a large batch ahead and freeze it, taking it out as you need it for pancakes, brownies, cake.