Rejuvenate yourself, refresh your holiday traditions and recommit to supporting your neighborhood farms. Connect with farmers who grew and made gifts and products to make your holiday feasts and celebrations special. These are full circle gifts. Give your loved ones local foods and crafts wrapped in stories –stories of local ingredients, talents, your own adventures getting them. And take pride that your purchases are investments in our working landscape.
How about a non-hectic stop in your holiday preparations?
Step into the "Red Schoolhouse" (VTC, Randolph Center (I89 exit 4) this weekend for the Floating Bridge Food & Farms Holiday Market and enjoy a good conversation while you sip some cold or hot cider, enjoy farm fresh holiday waffles or a farm sampler lunch, meet some farmers and fill your holiday baskets.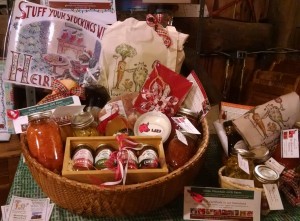 There will be space for kids of all ages to make potato stamp wrapping paper – demo Saturday at 2 pm and materials available all weekend.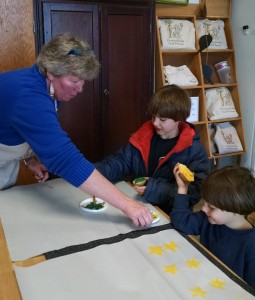 On Sunday, our own Donna will be doing a lard pie crust demonstration.  Learn her tricks for a delightful pie crust at demo 12 pm on Sunday.
Holiday Gift & Entertaining Ideas
Heirloom Tomato Bloody Mary Mix, Either serve it up as an appetizer or for a holiday brunch or gift some, you can even make a complete package with the pickles to dress it up including tomolives.
Gift Baskets – Give a basket of tasty food treats.  Perfect for both those you love to cook (lots of
raw ingredients) and those you just want to eat (prepared soups, salsas & pickles).  Create your own or choose one we put together.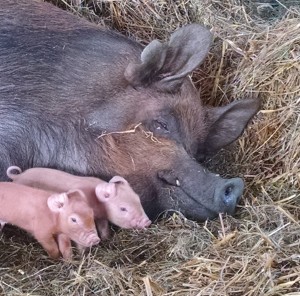 A Farmstay – Winter for the snow lovers, Spring to meet the piglets, Summer for vast fresh organic produce or Fall for the Foliage.
 Farm Gift Certificates:Leave it wide open for folks to choose a class, farmstay or food from our farmstand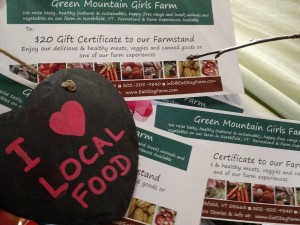 Holiday Cooking
Whether you are responsible for a big holiday meal and lots of holiday baking, have guests coming for cocktails, or just need some quick meals to get your through the busy season, our farm and many others have some great sustainable, delicious and even easy offers for you.  At our stocked farmstand you can find:
Pasture Raised meats for the holiday table from animals that have lived a good life outside. Consider a holiday ham, leg of goat roast, or turkey breast in addition to Alsatian Christmas Sausage.
Organically managed vegetables from winter spinach to crunchy carrots.
Pantry treats, including our own organic Pâté, pestos, and many pickles.
Ready to Eat Soups & Bone Broth for a quick meal and to make easy sauces
And Don't Forget the Lard for your holiday cooking and baking.  Learn more about our pasture-raised lard that is perfect for cooking and baking.  Featured on WCAX. 
See what is for sale at our Farmstand every week of the year!