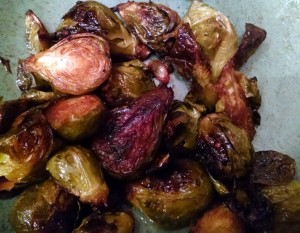 Another reason to love extended family…they roast veggies to perfection!  My brother-in-law and sister-in-law were linchpins in showing me how delicious two of my least favorite veggies growing up could be  — roasted beets and roasted Brussels Sprouts.
Simple and perfection.  Only way I have had them better was Lee Duberman's (chef at Ariel's Restaurant) Fried Brussels Sprouts.  If you add fish sauce and sesame to this recipe it might start to get you closer to hers.
Ingredients
1-2 lbs Brussels Sprouts, however many you want
2-4 Tablespoons of fat of your choice, they use olive oil, but roasted chicken fat, schmaltz or lard would also be great!
2-4 Tablespoons Tamari or Soy Sauce
Salt & Pepper
1 teaspoon Fish Sauce (optional)
1 Tablespoon Sesame Oil (optional)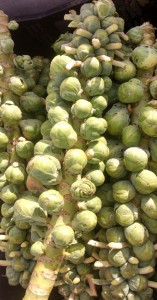 Directions
Preheat oven to 350 degrees. Cut sprouts in half.  Toss with olive oil, soy sauce, salt and pepper.
Place on a cookie sheet or baking pan, ideally with some room for them to brown.  Put in oven and Roast about 15 minutes until the sprouts are tender. Stir or shake pan, raise temp to 400 or 425 and roast for another 15 minutes or until nicely browned. Best to check every 5-10 minutes and shake/stir.
Eat and enjoy.  Just make sure to get some for yourself before all the kids and adults gobble them up!
Tip…if your sprouts are still on the stalk, popping them off and peeling off some outer layers is fun for all ages!