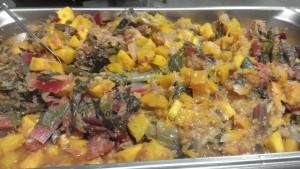 Pumpkin isn't just for pies!  If you want to bridge summer and fall cooking with the last of the fresh tomatoes & peppers but adding some lovely pumpkin to your tacos…here you go.  We made this as a vegetarian option for taco night, but I bet with a little pork, perhaps some pork jowl, it'd be even better!
The Recipe is from Rick Bayless  
there is even a video as he cooks it with Martha Stewart if you are looking for an excuse to procrastinate
Ingredients
Three to six 1/4-to-1/2- ounce stemmed, dried chipotle chiles, or canned chipotle chiles en adobo
3 large cloves garlic
About 8 ounces of pureed Tomatillos
4 to 5 tomatoes (the frozen ones worked like a charm)
1 tablespoon olive oil
1/2 pound pork jowl or pork belly, cut into 1/2-inch pieces (optional)
1 medium white onion, thinly sliced or chopped
1 1/2 cups sliced Swiss chard
1 teaspoon coarse salt
4 cups peeled, seeded, and cut into 3/4-inch cubes fresh pumpkin
Directions 
Make the salsa: If using dried chiles, preheat a large nonstick skillet over medium heat. Add chiles and toast, turning frequently and pressing down with a flat spatula, until very aromatic, about 30 seconds. Transfer chiles to a small bowl and cover with hot water. Let sit until chiles are rehydrated, for 30 minutes, stirring frequently to ensure even soaking. Toast garlic in a skillet until soft and blackened in some spots 5 minutes for the garlic. (if using fresh tomatillos toast them too)
Drain chiles, either from the soaking water or their canning liquid, and discard liquid.  Add chiles, garlic,  and tomatillos to the bowl of a food processor or jar of a blender and process to a fine-textured puree. Set aside.
If using fresh tomatoes, place tomatoes on a baking sheet and place baking sheet 4 inches below the preheated broiler. Roast until blackened on one side, about 6 minutes. Turn tomatoes over and roast on the other side, an additional 6 minutes. Let cool, then peel and roughly chop. Transfer tomatoes and any juices to a small bowl; set aside.
In a large heavy skillet, heat oil over medium-high heat. Add pork, if using, and onions; cook, stirring and scraping up browned bits of meat with a wooden spoon, until pork is nicely golden, about 10 minutes. Add reserved salsa, tomatoes, and 3 to 4 tablespoons water; stir to combine. Add Swiss chard and season with salt.
To make this dish ahead of time, cover and refrigerate sauce for up to 2 days, then continue cooking as follows.
Preheat oven to 350 degrees.
Place pumpkin evenly in a 9-by-9-inch glass baking dish. Pour over sauce/chard mixture. Cover baking dish with foil and bake until pumpkin is tender, 40 to 45 minutes.
Dish can be cooled and refrigerated at this point, if desired, then continue cooking as followed when ready to serve.
To continue cooking, uncover dish and raise the oven temperature to 400 degrees. Continue baking until sauce has reduced slightly and top becomes crusty, about 15 minutes. Serve immediately.