This was super popular at our first Taco Night and with fresh salsa season coming to an end, we have been having ALL sorts of tacos.
Below is the recipe for the Cabrito or Goat Tacos, add to that some of our hot sauce, fresh salsa, spinach, onions and/braised chard..yum!  Perhaps make a whole taco bar with some tomatillo chicken and braised pork jowl too!
[Note any mix of dried chiles seem to work well, we used some New Mexico chiles and some of our cayenne peppers]
3 dried guajillo or New Mexico chiles or fresh ones

2 dried ancho chiles or fresh poblanos

1 pound tomatoes (or about a quart of crushed tomatoes)

3 1/2 to 4 pound bone-in goat such as shoulder, neck, or leg

3 garlic cloves

1 1/2 teaspoon dried oregano

1 teaspoon Cider vinegar

5 whole black peppercorns

3 whole cloves

2  bay leaves 

16 to 24 corn tortillas
If using dried peppers, slit chiles lengthwise, then stem and seed (leave veins for heat). Heat a dry large heavy skillet (not nonstick) over medium heat until hot, then toast chiles in batches, opened flat, turning and pressing with tongs, until more pliable and slightly changed in color, about 30 seconds per batch.  Transfer chiles to a bowl and soak in hot water until softened, 20 to 30 minutes.
If using fresh peppers, ideally roast and peel then use instead of dried, soaked peppers.
If using whole tomatoes, cut a shallow X in bottom of each tomato and blanch in simmering water 20 seconds. Transfer with a slotted spoon to an ice bath to stop cooking. Peel tomatoes. Coarsely chop, reserving juice.  [or skip this step and have some tomato skins in your sauce]
Preheat oven to 350°F with rack in middle.
Cut goat at joints to separate into pieces [we just put the legs in whole] and put in a 3-quart shallow baking dish. Sprinkle all over with 1 1/2 teaspoons salt.
Drain chiles, discarding soaking water, and purée in a blender with tomatoes and reserved juice, 3/4 teaspoon salt, garlic, oregano and vinegar and puree until very smooth, about 1 minute. Add bay leaves, peppercorns and cloves.
Pour sauce over meat, turning to coat, then cover dish tightly with a double layer of foil and braise in oven until meat is very tender, 3 to 4 hours. Remove from oven and cool meat in liquid, uncovered, 30 minutes.  [It can stay in longer, especially if you turn it to a lower temp.  We ended up with it in for almost 7 hours, due to our schedule]
Preheat oven to 350°F. (If you can let it go for more than 4 hours, drop temp to 325 or so)
Coarsely shred meat, discarding bones, then mix into braising liquid in dish. Return to oven and cook, covered, until sauce is simmering, about 30 minutes more.
Fifteen minutes before goat is done, make 2 stacks of tortillas and wrap each stack in foil, then heat in oven on rack alongside baking dish. Serve goat with warm tortillas and accompaniments.
Goat can be made 3 days ahead and chilled.
NOTE: We found that if it was a really big leg, flipping it over so all was in sauce for part of the cooking would have been a good choice.
Ideas for Accompaniments: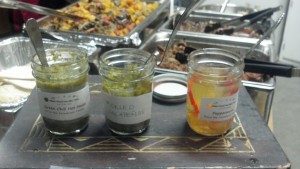 sliced radishes
crumbled queso fresco or Chevre
salsa verde
Mexican Cabbage or Carrot Slaw
chopped cilantro
chopped white onion
lime wedges
Hot Sauce
Fresh Salsa (in season)
Mexican Pickled Carrots