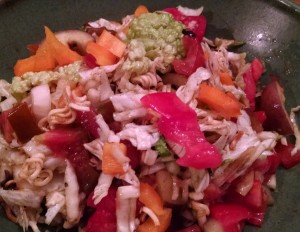 Sometimes a Napa Cabbage can be a bit overwhelming…but just peel it down a bit and chop it up and it has the delightful crunch of romaine lettuce but some of that lovely Napa flavor.  This is a great cabbage raw or cooked…for this season consider this salad.  When my sister-in-law serves it there is never anything left, all ages just gobble it up!  It is still good without the crunchy soup noodles, but perhaps that is what makes the kids gobble it up.  This would also make a great meal salad with some leftover chicken or pork.  Or as a side with some fresh chicken or pork ribs!
1 large Napa cabbage, chopped
Half to a cup of chopped onion or scallion
1  bell pepper, diced
1-2 tomatoes chopped (if tomato season, if not dried tomatoes are lovely in it)
1/4 cup butter or other farm fresh fat, poultry or pork fat are great!
1 cup slivered almonds
2 pkg. ramen noodles
Dressing:
1 cup oil
1/2 cup red wine vinegar (or your other favorite, Artesano's Turmeric Honey vinegar was fantastic with the salad)
2 garlic cloves, minced
2 tsp. soy sauce
1/3 cup sugar or maple syrup
Instructions:
Place chopped cabbage, onions and red pepper in large salad bowl.
Melt fat in frying pan and saute almonds, broken noodles and seasoning package if you wish or add some of your own spices until golden. Add to cabbage mixture and toss.
Shake dressing ingredients in a jar or blend with immersion blender.
Pour SOME over salad and best if tossed at least 1/2 hour before serving, but works fine to toss and eat.  Add fresh tomatoes before serving, but if using dried tomatoes add them with the dressing.
NOTE: You will have extra dressing – refrigerate and make another one soon!