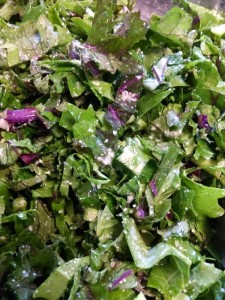 Fall kale is the sweetest, post frost, but spring kale is the most tender.  We have even been just chopping the rib/stems up thin and adding them to our kale dishes, whether they are cooked or raw as a salad.
Often, we do a vinaigrette with kale (lots of options here), but had a taste for more of a creamy, Caesar style and it was great!   If you are a purist, you can do a true Caesar dressing with anchovies and raw eggs, but for those looking for a quicker, simpler option this worked great and hit the spot! We didn't do croutons, but it'd be nice with them too.  Inspired by  Simply Recipes 
Ingredients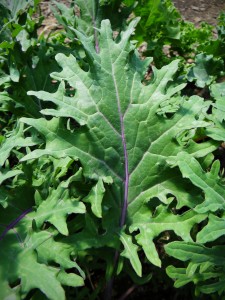 Kale – any kind, this dressing volume is probably enough for about a pound
1-2 cloves garlic
1/2 teaspoon Dijon mustard
1 1/2 Tbsp lemon juice
2 teaspoons apple cider vinegar
1/4 teaspoon kosher salt
1/4 teaspoon ground black pepper
1/2 cup olive oil
1/3 cup grated Parmesan
Directions
Bunch kale for chopping.  Start at stem end and chop finely, once get to the leaves can chop a bit more coarsely, then cut in opposite direction to make the leaf pieces be a reasonable size and put all in your salad bowl.
Put all dressing ingredients in a small blender or use immersion blender and puree till smooth.
Pour dressing on salad, toss and enjoy.   Great thing about kale salad is it can be and even likes to be, dressed 15 min to hour before eating.
Great topped with croutons and a bit more Parmesan or just as is.