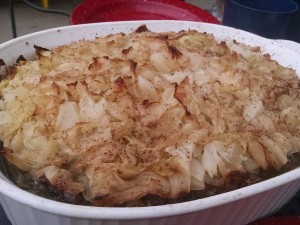 adapted from BBC Good Food
Perhaps one of the most surprising new recipes this season.  Donna took on using more cabbage for farmer lunch and we got this treat.  It holds together well, the cabbage is delightful (even for folks who do not love cabbage) and the combo is super tasty and even better with some hot sauce on top!  Geography note — Trôo is an ancient village in central France with caves and cave dwellings…seems even the early French dwellers knew good food!    
About 4 ½ lb White or Green Cabbage, thickly shredded
2 oz Green Mountain Girls Farm Lard
1 ½ – 2lb Green Mountain Girls Farm Sausage, spicy or garlic might be best
Salt & Pepper
Pre-heat the oven to 300F. Cook the cabbage in boiling salted water for 4 minutes or so, then drain and run under the cold tap. Drain again thoroughly. Grease a deepish oven-proof dish (about 3 quarts) generously with half the lard. Cover the base with a third of the cabbage. Season well.
Arrange half the sausage over the cabbage, flattening it out a bit with your fingers so that it covers it reasonably well, pressing down as you go. Repeat these layers, and then finish with a final layer of cabbage. Season again with salt and pepper, then dot with the remaining lard. Cover tightly and bake for 2 1⁄2 hours, until the cabbage is as tender as butter.
Let Stand for at least 5 minutes, then cut in wedges or slices and serve.  Hot sauce is a lovely addition.