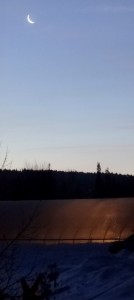 Oh, January how I love thee.  A brand new year and the demands of the growing season seem so far away!  So many possibilities for house projects, cooking experiments, rest, relaxation..oh and of course that backlog of important personal, administrative, and planning projects that have been pushed aside for more urgent demands.  Oh, how I always yearn for 2 Januarys so there is time to catch up, plan and rest….oh well, we'll do what we can and leave more projects and dreams for next winter.
January has also become time for getting our sows pregnant, which has become a more hands on project since we switched to AI (Artificial Insemination).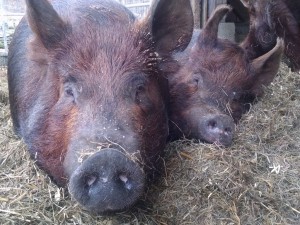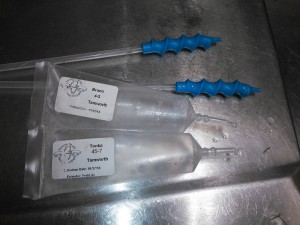 We started the New Year off with a bang (or rather a squirt) toward the hopeful route of litters of piglets in the Spring.  January has started off with inseminations nearly every day as first Ramona exhibited her heat signs and then Amelia switfly followed.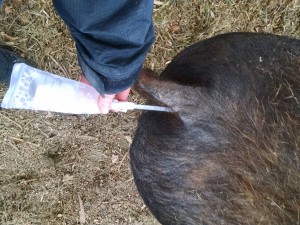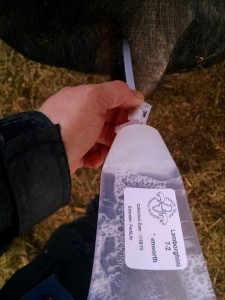 Our choice from the catalog, Lamborghini (chosen since he is a Tamworth, the same  heritage breed as our sows), arrived neatly packed and ready for use!  The role of a farmer is really varied.   In three weeks, we will either celebrate success or try again, here's hoping for success and another batch of happy, pasture-raised piglets coming soon. Until then, if you want to think about pigs, join us and author Barry Estabrook to talk about his book, Pig Tales: An Omnivore's Quest for Sustainable Meat
And January as a localvore.  
Me, I love local eating in January.  Partly, because I have extra time for experimenting and it seems legitimate to enjoy the various items I have squirreled away in the freezer and pantry, like roasted anaheim peppers, tomatillos, chard and berries and to experiment with some new recipes and techniques.  And the abundance of the fall harvest is still at hand — time to play with the root vegetables and Cabbages, getting beyond my standard recipes.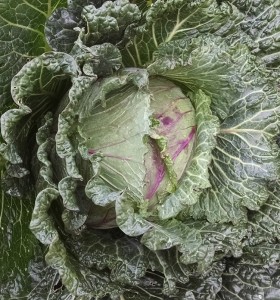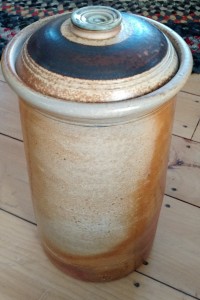 This January, cabbage will take center stage, as it was a great year for our cabbage (hint, hint..you can enjoy more too!)  and Mari got a fermenting croc for Christmas.  Not just any crock, but a wood-fired one crafted by our friends & members, Becca & Nathan Webb of Two Potters in Bethel.  We can't wait to start experimenting and would love to hear other folks stories about fermenting.   But we are also excited about other options for cabbage and LOVE the Trôo style stuffed cabbage that Donna introduced us to. And the seemingly endless recipes attached to a recent blog from our friends at Jericho Settlers farm… they ask too much cabbage? We don't think there is any such thing… And now to decide which cabbage recipe goes best with the Beet Hummus recipe a customer gave us….hmmm, looking forward to trying.