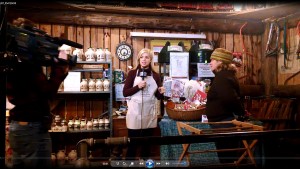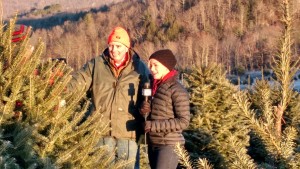 We had a great, early morning with Alaina Pinto of Local 22/44 at LH Stowell & Son Christmas Tree Farm in Brookfield with a live broadcast about how local farms and our Floating Bridge Food and Farms Cooperative can help folks get ready for the holidays from a fresh local tree to wonderful localvore gifts to go under the tree and holiday food, of course.  All available at the Coop's 5th annual Holiday Market.
Below are a few segments featuring our own Mari Omland, but check out all  eight short segments on Local 22/44 website that she did live with members of the Floating Bridge Food and Farms Cooperative including Lew Stowell, Judith Irving of Fat Toad Farm, Mari & Laura.
Talking about the Holiday Market & Gifts

Trees, Markets & Supporting Local Farms
And some great photos of a gorgeous, clear December morning in scenic Brookfield, Vermont.