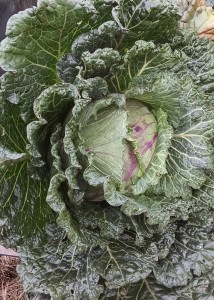 Hello October.  With this cool weather, perfect time to start in on soups and slow cooked goodness!  Perhaps with the last of the peppers!   We have some new meat cuts stocked this week including goat shanks and fresh (meaning not smoked) ham shanks, which are much meatier though similar to ham hocks!  Great recipe this week, or perhaps Jamie Oliver's Jerk Hocks…hmmm so many good choices.
We have the last bits of the heat loving veggies and the alliums are all cured and brushed and ready for you as well.
Any items marked with "Lots" is available in processing volumes.  If you plan to do so let us know and we will harvest extra. 
This week at our Farmstand you can find:
• Raw Goat's Milk (on farm only)
• Eggs
Fresh/Stored Veggies & Fruits
• Arugula
• Beets, LOTS!
• Broccoli
• Cabbage, LOTS!
• Chard, Fresh, LOTS!
• Eggplant
• Fennel
• Garlic
• Green Tomatoes
• Kale, LOTS!
• Napa Cabbage, LOTS!
• Onions, Red & Yellow
• Peppers – Sweet & Hot
• Pesto: Basil, Cilantro, Garlic Scape & Kale
• Shallots
 Herbs -Pick Your Own & Farmstand
• Anise Hyssop
• Basil
• Cilantro
• Dill
• Mint
• Nasturtium Flowers
• Oregano
• Parsley
• Sage
• Summer Savory
• Thyme
Meats
• Bacon
• Pork Belly
• Bones, Pork & Goat
• Chicken, Roasting!
• Country Style Ribs
• Fat, Pork Leaf
• Fat, Pork Back
• Pork Jowl
• Ground Goat
• Goat Ribs/Goat Breast
• Ham Steaks & Roasts
• Lard
• Partial and Whole Leg of Goat Roasts
• Offals – all sorts!
• Pork Chops
• Pork Ribs
• Pork Roasts
• Shanks, Goat
• Shanks, Pork (un-smoked Ham)
• Smoked Polish Sausage


From the Pantry & Prepared Foods
• Green Tomato Pickles (Curried, smokey & Relish)
• Hot Sauces – canned & frozen
• Lemon Pickles
• Pepperoncini
• Tomolives
• Heirloom Tomato Salsa: Mild, Medium, Smokey, Chunky, or No-Salt versions
• Tomato Paste
• Dried Hot Peppers
• Farmhouse Soups:Vegetarian Borscht, Southwestern Squash & Carrot Potato Leek
From our Friends
• New Specialty Pizzas from Field Stone Farm – Shitake Mushroom Ricotta; Beets with Goats Milk Feta & Honey; Smoked Kielbasa with Veggies; Garlic Lovers with Feta & Pine Nuts
• Maple Syrup from Brookfield Bees
• BEANS!  – Black Beans & King of the Early from Morningstar Meadows Farm
• Pumpkin Puree from Two Worlds Farm
• Honey from Brookfield Bees
• Caramel from Fat Toad Farm
• Organic Shopping Bags from Spotted Dog Farm
*Items in italics and from our farm friends are not included in the Omnivore Share, but are available to Omnivore's at a 10% discount.