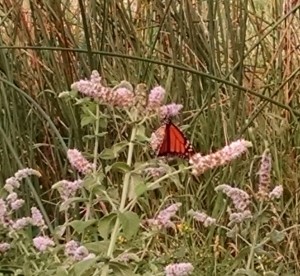 We delighted taking a break from a recent batch of curried relish watching a monarch dance outside the farm processing room window. The color of the relish will remind us of this moment when we take in its summery warmth come winter. But with it too will come the burdensome worry for the future of this lovely flagship insect, which like other pollinators, is suffering precipitous decline.
Some of you may have seen NRDC's video and petition campaign pressuring an end to specific agricultural products in an effort to turn the situation around. Share your favorite articles and resources on Monarchs and pollinator gardens to keep us all inspired to do our part!
And sure, organic veggies and produce from small farms does cost more cash. But it doesn't cost us Monarchs.  Is price our king or can the Monarch and other wonders of nature regain power and trump today's bad habits in food and ag?