We made this as a veggie option for a farm taco supper a few years ago, but it was super popular with all and quite easy.  A great base or mixed with some of our pasture raised meats and there is still the ingredients for fresh salsa!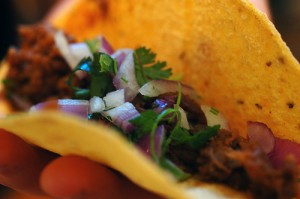 Adapted from SweetBeetandGreenBean.net 
1 large eggplant (about 1/2 a pound)
2 tsp cumin
1 tsp paprika
2 cloves garlic crushed or chopped
1 tsp salt
1/2 tsp coriander and/or fresh cilantro
1/4 tsp black pepper
1 tbsp olive oil or other fat, does great with pork fat
Directions:
Coarsely grate the eggplant into a large bowl, food processor works great if you are doing a bunch. Toss the shredded eggplant with all of the seasonings and the olive oil, mix well.
Heat up a frying pan over high heat and toss the mixture in. I find the best way to cook the mixture is to press it as flat as possible into the pan – to maximize surface area. cook on high for at least 3-5 minutes, mixing every minute or so. Sometimes i like to cook it longer until it's more crispy, but it's fine soft too, since it isn't meat you don't have to worry about reaching a maximum temperature, cook it to your liking!
Serve with other delicious options for your tacos.
yields about 3 servings (6 tacos)