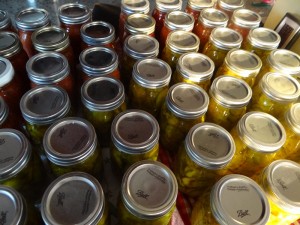 Really that should be harvesting, canning, dehydrating and freezing in bulk!  August and September are busy months.  Not only are we still tending all the livestock and crops in the field, but harvesting them in earnest and then turning some portion of that into delightful options for the colder months ahead.  Some days veggies will go from field to freezer or sealed canning jar into a ready to eat item.  Other days veggies or fruits will go straight from field to freezer, but in a temporary hold until we have the time later this fall to transform them into sauces, spreads, juices and more as there are only so many hours in a day and with school starting up we have a few less hands around here.
For those who like numbers…here are a few from the past week:
From the Farm kitchen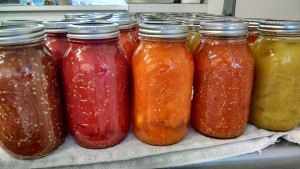 99 quarts of Crushed heirloom tomatoes, by variety of course
69 quarts of tomatillos
250 pints salsa (and still counting as the rest of the team is getting the last batch in now)
48 half-pints of plum sauces
3.2 lbs of dried tomatoes
and a few dozen containers of pesto
From the crop fields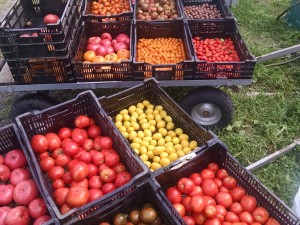 838 pounds of tomatoes
86 pounds of peppers
over 50 pounds of elderberries (and they are small fruits!)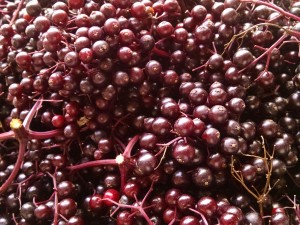 200 pounds (or so) of apples
Several hundred pounds of other veggies for sale
and all of the onions and most of the shallots in and drying (many many crates worth, weights still to come)
From the other fields
More miles of fencing set and picked up and set and picked up than we'd like to count..enough to keep the 400 beings moving and eating on pasture
450 bales of hay in and stacked!  Thanks Walt and Tony too!
nearly of a ton of grain and alfalfa fed out and two tons unloaded into the barn
And were do we add the 35 lattes on the hoof and farm tours for 45! We loved having Eric & Bree's wedding guests spend the morning at the farm.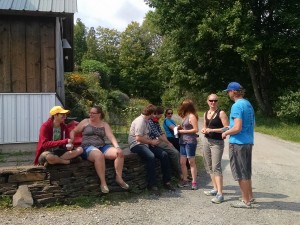 Phew!
A few more of these crazy weeks as tomatoes and apples keep coming, potatoes, squash, and the last of the fruits come in the fields, the last batch of meat chickens head to Maple Wind for processing and then we can all slow down a bit…well at least for a few moments as there is certainly sausage, bloody mary mix and lard to be made.  Yum, that will all be delicious.
And all this in the name of local, sustainable eating.  It is quite delightful, we hope you think so too.