This is one of our favorite sauces…sort of hot sauce, but not so hot, and wonderful on tacos, enchiladas, eggs..well most things truly.  Lots of variations available, but this one adapted from NY Times hits the spot.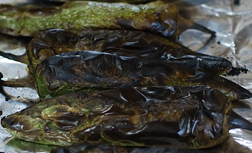 2

tablespoons lard, bacon fat or other leftover animal fat or butter

1

small onion, finely diced

Kosher salt

4

garlic cloves, minced

2

tablespoons all-purpose flour

2

cups chicken or other stock 

2

cups chopped  Anaheim green chiles (roasted, peeled and seeded)  Could use a mix of other peppers too which will adjust heat and flavor.  See tips for roasted peppers on our website or PioneerWomanCooks

½

teaspoon cumin, ideally toasted a bit in a frying pan

½

teaspoon oregano, mexican if you have it

1 tablespoon lime juice
Directions
Put fat of choice in a heavy-bottomed saucepan or cast iron skillet over medium heat. Add onion, bit of salt and cook, stirring, until softened but not browned, about 5 minutes. Add garlic and cook for 1 minute more. Sprinkle in flour and stir to coat.
Add stock a little at a time, whisking constantly until thickened, about 2 minutes. Add chopped chile, cumin, oregano, lime juice and about 1/2 teaspoon salt. Lower heat and simmer, stirring occasionally, for 15 to 20 minutes. You should have about 3 cups medium-thick sauce. I like to immersion blender it smooth, but consistency is up to you.  You can refrigerate it for several days or freeze it for future use.