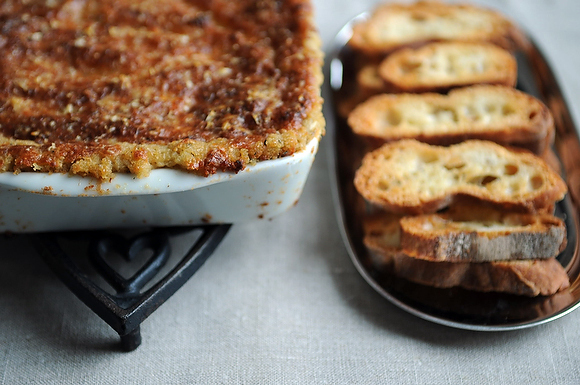 Yum. Adapted from a Contest Winner's recipe on the Food52 blog.
Ingredients
For the Roast Fennel:
2 bulbs fennel, trimmed and cut into 1″ pieces
2 Tbsp olive oil
2 cloves garlic, still in papery shell
salt and pepper
For the Bean Puree:
3/4 cup olive oil
2 garlic cloves, peeled and minced
2.5 cups cooked Cannellini beans, drained and rinsed (Even the white/red mix bean, King of the Early, we have in the farmstand would work as a nice VT bean option.)
1 Tbsp fresh rosemary, chopped
1 Tbsp fresh lemon juice
1/2 cup Parmigiano Reggiano cheese, grated
And for serving: A crusty bread like crostini
Directions
Heat the oven to 400 degrees. Toss the fennel and garlic with olive oil, salt, and pepper, and roast for 30-40 minutes, turning once or twice during cooking.  When cooled, squeeze the roasted garlic from its skins.
In a small frying pan heat 1/2 cup olive oil over medium heat. Add the other garlic cloves and cook until lightly golden, add rosemary and cannellini beans and cook for one minute more. Be careful not to burn the garlic. Take it off the heat.
In a food processor combine the garlic bean mixture, fennel, roasted garlic, lemon juice, remaining 1/4 olive oil and all but 3 tablespoons of the parmigiano-reggiano. Puree until smooth.
Raise oven temp to 450 degrees. Transfer puree into a small baking dish and sprinkle with remaining cheese. Feel free to add more. If your dish is near full, place it on a baking sheet, in case it bubbles over in the oven. Bake until cheese is golden on top, about 15-20 minutes. Serve with crostini or your favorite crusty bread. Enjoy!