Even though photosynthesis is one of nature's finest miracles and plants around the farm are showing us every color imaginable, it is the farm animals that attract many of our visitors. When booking custom tours goats often are the lead draw, though pigs on pasture are a close second.  But inevitably the poultry on pasture garner up amazement… "their plumage is so colorful!" one guest said this week.
Still the most surprising result is that Uno our farm dog and Hop our barn cat my win the blue ribbons for most popular!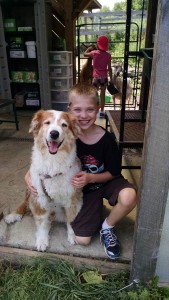 This seems surprising since pet dogs and cats are all around and the livestock are the rarer treat for farm visitors. But it must say something about how we humans tend to like to build relationships. And Hop and Uno tend to be the greeting committee, often accompany us on tours and one of these days we are going to get a call and find out Hop has snuck into someone's car!
We share our farm so the important relationships between our food and our environment and community can be better understood. We love the range of folks who show up here!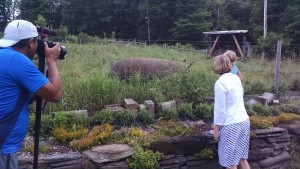 Last week it was a documentarian named Roberto (more on this in an upcoming newsletter), a rain-starved family from California who stayed through 5 days of deluges, soft rains, thunderstorms and plenty of good sunshine too, a couple celebrating their first anniversary and some uprooted Vermonters who now hail from Pennsylvania. Then there was a fun mix of Bostonians and locals who took very literally our Floating Bridge Food and Farms ' invitation to participate in "hands-on" learning at our cheese making class.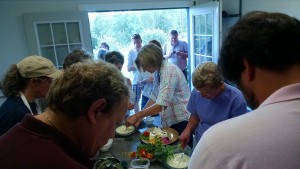 And the Journal de Quebec story that came out this week featuring our farm and experiences as part of a 42 hour stay in the Montpelier area.
Coming up next week we are excited to ramp up our everyday offers to share not only our farm foods but also our farm experiences, which can also be booked other days when you or visitors are looking for a farm tour or more.  Even more fun is to be part of a state-wide menu of options that will make farms more visible and accessible.  We hope you have a chance to participate.
Finally, when Corie from Bread and Butter Farm wrote searching for piglets we knew we could sell a few. We admire her farm's ambitious efforts to welcome folks to their farm in Shelburne. Loading piglets reminds us about how exciting farming is…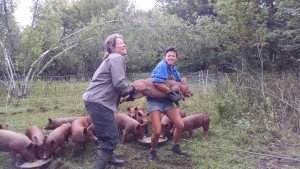 Those piglets are strong and didn't favor being lifted. However they nestled right into the crate full of hay and seemed very willing to head to their new home. If you want to watch these 3 pigs grow or you just want to try one of the most popular farm experiences in Vermont, we recommend Burger Night which is held, weather permitting, every Friday night throughout the growing season.