We know it is a great responsibility to do things right when farming at the top of the watershed. Our snow pack is making its way with the first April showers into our mountain streams. Eventually it will join the Dog River, then the Winooski, and into Lake Champlain, the Richelieu River and the Gulf of St. Lawrence. But we are so close to the watershed divide that rain falling on the top of the hill we see from our farmstand goes to the White and then Connecticut Rivers and eventually the Long Island Sound.
Starting a batch of bone broth with our mountain well water is a great privilege. But perhaps equally rare is our next ingredient – bones from animals who browsed, grazed, pecked, scratched and drank that lovely water, in the life-giving glow of sunlight.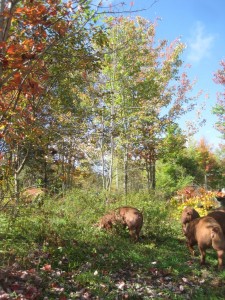 A bit of a bone-broth craze has hit the streets of DC, New York and other metropolitan areas. Myriad benefits are touted from this nutrient rich gem. That part of the story is as old as the hills! But the new twist is that people are doing shots! Standing in lines to get chef's broth handed out windows. They are even mixing meaty new and old cocktails.
As we return from thinking big about agritourism at a conference in Rutland with fellow farmers, Representative Welch and colleagues from Senators Leahy and Sanders' offices, we are beginning to wonder… Will it be beer or broth that will bring more visitors to Vermont? It is fun to picture parallel lines to those forming for Heady Topper and other limited batch Vermont beers at shops around the state for people interested in broth as a substitute for Botox, shark cartilage and treating everything from laugh-lines to troubled guts.
We were thrilled to host a gaggle of ten intrepid entrepreneurs from St. Louis this week as they plugged into a little farm-fresh inspiration. They were not brought here by broth but by seminars at neighboring Norwich University. But given how folks are talking about bone broth as potent medicine, it isn't surprising that this week we got an email from an outfit in Colorado who wants to buy our pasture-raised pork fat!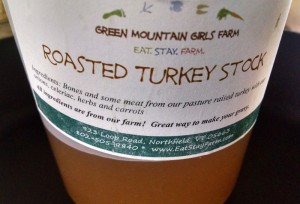 While the hype takes hold, know that our bones, fat and Farmhouse Broth are in the freezer, ready to bring you all that goodness and nutrition. Warm or chilled. Sip and enjoy! Or use the stock to bolster and enhance a favorite recipe.