The melt-out happened quickly and the soundscape of the farm has changed. Rain on the roof. Killdeer reclaiming their turf. Wood frogs breeding in the pond. Birds. So many birds singing. Hearing all these sounds again at the same time as we again smell earth makes Earth Day's timing brilliant.
Speaking of brilliant and honoring Earth Day with some great re-used materials, Mike & Mari made a grand new drying & storage rack for the harvest buckets.  It may seem like a small thing, but sometimes those are the ones that make you most happy.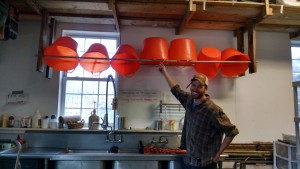 This week the farm was lucky to have Nicko Rubin of East Hill Tree Farm prune and assess the condition of our young orchard.  It could be a good year for apples! His tagline "Blessing Up the Earth" is indeed what he does. Nicko is having a bare root tree sale this week and Elmore Roots Nursery opened for the season on Earth Day. We have great fondness for their work and great hopes for the plants we have gotten from both over the years.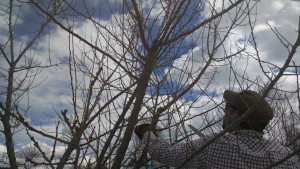 And most relevant to those of us celebrating Earth Day by eating intentionally to change the food system? Fun new delicious Spring treats from the garden.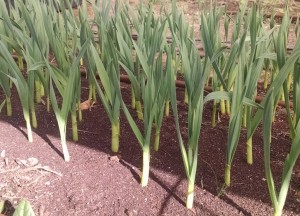 And as welcome and ephemeral as some of the ponds the frogs are singing from is green garlic coming out of the hoop house! Alice Waters and so many others adore it for adolescent mildness and the opportunity to use it in its entirety.  Use it to dress up the ongoing bounty of spuds, carrots, beets, spinach and eggs or try Alice's supper simple spaghetti with green garlic recipe.