This recipe is from Donna Farley what she crafted together into a lovely goat stew from farm goods.  We fortunately got to taste it and it was really delicious!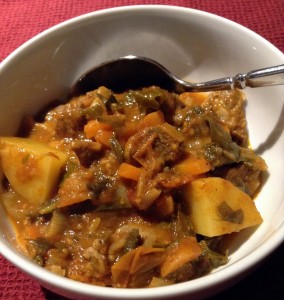 Green Mountain Girls Farm Goat Stew
2lb Goat Stew Meat (or cut up goat meat from another cut)
Salt & pepper
4T fat (I used a mix of pork fat & olive oil)
4 large shallots or 4 medium onions – chopped
4 Carrots – sliced
½ lb mushrooms – sliced (optional)
2T Pataks Hot Curry Paste (or mix your own herbs/spices with tomato paste & crushed garlic)
1 bay leaf
I large (gallong) bag of frozen whole tomatoes or canned
4 potatoes – cut into 1inch chunks
½ package of frozen kale – chopped (or frozen chard/fresh spinach)
Season the meat with salt & pepper
Melt the fat in a heavy skillet & brown the meat in small batches, and remove to a plate
Add the shallots to the pan and cook until soft – about 5 minutes
Add the carrots & mushrooms and cook for 5 minutes
Add the curry paste (or your own mixture) and cook for 2 minutes
Put the meat and any juices back into the pan.
Add the frozen tomatoes and simmer for about 40 minutes, stirring occasionally, until they have broken down.
Then add the potatoes and simmer for 30-45 minutes until the potatoes are cooked. If it is looking too thick you can add a little water/stock or canned tomato puree.
Add the kale for the last 5 minutes.
Add more seasoning as needed.
Enjoy!