This week has been busy! Lots of hellos and a few goodbyes.
In the midst of kidding, we had a quick sendoff for Andrew, who wrapped up two years of working with us, tending the vegetable crops.  Andrew has some of the fastest hands in the East when it comes to onion harvests and is even faster when it comes to jumping between excel files and pivot tables, taming the complexity of seed orders, bed feet, amendment quantities, yield expectations, rotations and so on!
We will remember his tenacity scalding (especially in the 2013 extremely cold turkey slaughter day), his penchant for hot sauces, his seed murse (see urban dictionary!), creative repurposing of ski googles when snow-blowing the hoop house sides, his innovation with our potato planting and harvest and so many other breakthroughs. And of course Team Andrew – Helen and Larry teamed up and were unstoppable (literally) in the orchard, fields and on turkey processing day.
He is off to dedicate his time to his own business, not Hops, but Ginseng.  We wish him well in this ambitious new endeavor!
We are halfway through the March kidding.  6 does have delivered 12 kids and while the cold temps had us a bit more hands on than ideal, all are doing well.
Meet the new arrivals, named for Musicians.  And come meet them in person one of the next few Thursdays or at this weekend's Sweet & Sweetness Brunch.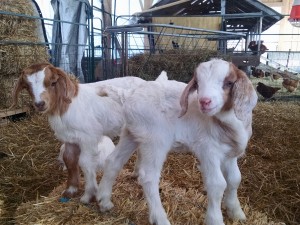 Belafonte & Seegar – Fern's kids, born on the Selma anniversary
Ingrid's triplets, named for the Staple Singers: Pops, Mavis & Pervis (Staples) also born on the Selma march 50th anniversary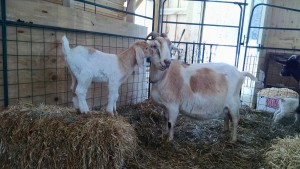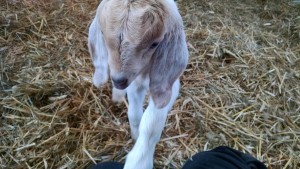 Princess Grace Kelly (though she thinks of herself as a queen) with the first 2 kids born:  (Queen)Latifah & Prince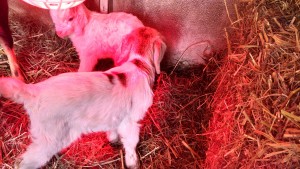 Loretta (Lynn) & Willie (Nelson) our littlest ones thus farm from Charlotte.
Check out the video of Willie trying to get up on the straw bale..persistent! He did finally make it.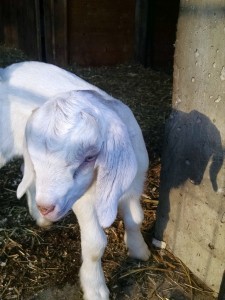 Jenga had a single, big boy….yes, it had to be Elvis.  He is nearly all white with a great black tuft down his neck.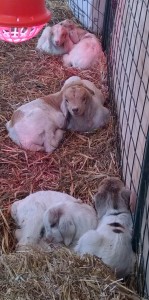 Two by two..the bonding starts early.   Doc Watson & Ralph (Stanley) are at the top, the kids of Annapurna, our mountain doe, followed by Grace's 2 and Charlotte's.
We also bid adieu to Babar, the buck we have used for the last few years.  His boer mark is certainly present in the first batch of kids, with lots of white coats.
We are enjoying a small break in the kidding and getting ready for a great weekend of fun at the farm…and more kidding.  We think Myst and Harmatan will deliver the next kids, which shouldn't be before Thursday…but looks like it may well be before Monday!