From Terry of Spotted Dog Farm in Randolph, one of her many legacies.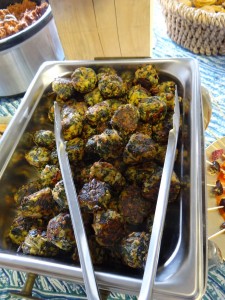 I have been craving these recently.  With the hens laying well, plenty of chard in the freezer, now is the perfect time.  Everytime we serve these we get requests for this recipe.   We originally used this recipe for a farm supper several years ago and it is a great use for any leafy green, but as we discovered, a real knock out for chard (even the chard naysayers were coming back for seconds!)
Ingredients
2 bags (1 lb. each) frozen chopped chard, defrosted and pressed for extra water or equal amounts of any mix of leafy greens
   If using fresh greens, wash, chop, blance and press/spin out extra water before mixing with other ingredients 
1 c. parmesan cheese
1.5 cups breadcrumbs
2-3 small onions, minced
½ c melted butter
4 eggs
salt, pepper, and herbs to taste (we've enjoyed some fresh
cilantro in the mix)
Directions
Preheat oven to 350, and lightly grease a cookie sheet.
Mix all ingredients and shape into golf ball size rounds. If that chard pieces are large, cut them a bit with a knife or kitchen scissors.
Bake for 15-20 minutes on one side, roll and bake for another 15-20 minutes, or until golden and cooked through center.
One of the many great things about these fritters, is that the freeze really well.  Just freeze after forming them into their shape and you can bake them from frozen.