Our farm version of this recipe was inspired by and based on a recipe from Rick Bayless, but we adapted both to our liking and what the farm offers.  We chose this as the recipe to use in a profile of the farm a few years ago in Local Banquet, a great Vermont magazine devoted to covering local food, sustainable farming, and the many people building the Vermont food system.  Their stories, interviews, and essays are really wonderful as is a warm cozy plate of our pasture-raised pork stewed in the bright, fresh taste of tomatillos!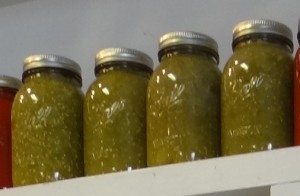 Ingredients
1 1/2 tablespoons rich-tasting pork lard, turkey/chicken fat or olive or vegetable oil
2 lbs country style ribs or Pork Roast
1 quart canned tomatilos or puréed fresh tomatillos
hot peppers to taste (1-2 jalapenos or habaneros, fresh or dried)
1 medium onion, sliced
3 garlic cloves, peeled and finely chopped
small handful of dried tomatoes
1/3 cup chopped fresh cilantro or a bit less dried or ground coriander
salt
Directions
Let the meat thaw in the fridge and then come to room temperature. Dry it thoroughly, cut into chunks, and salt and pepper it. In a medium-size Dutch oven or other heavy pan with lid if cooking on stove (if going into a crock pot any heavy pan will do), heat the lard or oil over medium heat. When quite hot, lay in the pork. Brown well on both sides, 5–10 minutes. Add the onion and cook, stirring regularly until golden, 3–5 minutes. Stir in the garlic and cook a minute longer.
Raise the heat to medium-high, and, when really sizzling, add the tomatillo purée all at once. Stir until noticeably darker and very thick, 3–4 minutes. Add 1/2 cup of water, the dried tomatoes, and cilantro or coriander. Taste and season with salt, usually 1 teaspoon. Stir everything thoroughly. Cover and let it simmer on the stove or put it in the oven at 325 ºF for at least 45 minutes (can be longer for an even more tender dish with thicker sauce).  Or put it in a crock pot/slow cooker and let it cook slowly for several hours.