Really it was rainy day prep with livestock moves — when farmers hear Nor'easter, we pay attention.  Wet, cold and windy….not the best for our pastured livestock, especially tough on the goats, but we have made sure they all have good shelter, plenty of hay as a buffer and thanks to harvest and gleaning they are all getting some treats from our fields such as beet greens and the apple drops that a Randolph Farm to School program gleaned and left for our pigs (and the goats enjoy some too!).
You know how sawdust from a chain saw looks? Small wood chips really, somehow similar to voles chipping carrot tops! Some of the carrots & beets near where the pasture and garden meet were beginning to display the tell-tale signs of damage from voles and shrews. While the wet weather would make waiting for dryer days the better choice, soggy or not we had to yank them in before our rodent friends found too many of them!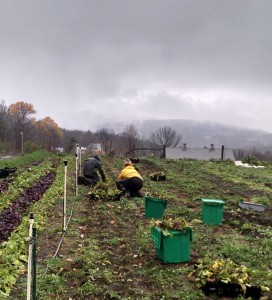 So the darkness of the rainy days was lost on us, as we were up to our elbows in bright orange, reds and greens, marching as fast as we could through root harvesting, topping,
washing and sorting. Finally the roots are weighed and placed in our perforated bins a few with "Hobo" monitors so we can track humidity levels and keep them in great shape for the fall, winter and perhaps even spring.  The carrots are beautiful — made sweet and extra tasty by several good frosts.
The mountain of carrots (yellow, red and several varieties of orange) and beets (Chiogia and Detroit Red)  are joining the ton of potatoes (ok, it was only 1,987.7 lbs) that were cured, graded, brushed and tucked into the walk-in  last week for the winter.  Yes, it was a good potato year, a very, very good potato year.  Hopefully that will make up for the bad squash year. We will have a few winter squash on offer in a few weeks, but there won't be that many this year. Enjoy these potatoes!
Quick on Charlotte's heals, Ed wrapped up his summer of service to our orchard and crop efforts. You may be interested in the punchy resolutions honoring their good work. Even more fun is the rap Ed left us "in lieu of speech".
We hope you enjoy his artful documentation of this week's work readying and planting out the West hoop house with winter greens!