Adapted from Simply Recipes (Really you can roast the potatoes your favorite way, cut big or small!)
We served this as part of a Tapas Meal and fell in love with the sauce! Great opportunity to use the last of the fresh San Marzano tomatoes!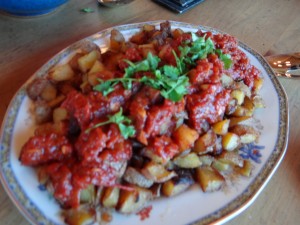 2-4 pounds potatoes (peeled or un-peeled, your choice), cut into 1 to 1 1/2-inch chunks
Olive oil or lard or other fat
Salt
1 medium onion, chopped
5-6 garlic cloves, chopped
1 cup poultry stock or white wine
4 Tbsp tomato paste
About a quart of crushed tomatoes or tomato puree (If using fresh tomatoes, may want a bit more than a quart)
4 teaspoons  hot sauce
2 teaspoons smoked paprika
2 teaspoons salt
2 teaspoons maple syrup, honey or sugar
METHOD
1 Preheat oven to 375°F. Toss the potatoes with 3 tablespoons of oil and salt well. Arrange in one layer in a casserole pan or rimmed baking tray and roast until browned, about 50 minutes.
2 While the potatoes are roasting, make the sauce. Heat 4 tablespoons of oil in a medium pot set over medium-high heat. Sauté the chopped onions, stirring occasionally, for 4-5 minutes, or until they begin to brown on the edges. Add the garlic and sauté another 2 minutes.
3 Add the white wine to the pan and turn the heat to high. Boil on a high boil until the wine is reduced by half, then add the tomato paste and stir to combine. Add the crushed tomatoes, hot sauce, salt, sugar and smoked paprika. Stir well and reduce the heat to a bare simmer. Let the sauce cook slowly while the potatoes roast. If you want, you can use a blender or an immersion blender to purée the sauce until smooth.
4 When the potatoes are well browned, pull from the oven. Serve with tomato sauce over the top.
This recipe makes more than enough sauce for the potatoes, so you can double the amount of potatoes for more servings, or save the extra sauce for later. It will keep a week in the refrigerator.